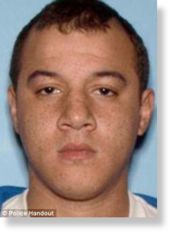 A 20-year-old maintenance worker who this week pleaded guilty to molesting and killing a 7-year-old girl was found dead of an apparent suicide in his prison cell Thursday, according to the Georgia Department of Corrections.
Ryan Brunn was found unresponsive at 4:15 p.m. at the state prison in Jackson, said spokeswoman Kristen Stancil. Brunn was taken to a hospital, where he was pronounced dead at 5:37 p.m., Stancil said in an email to The Associated Press.
Brunn pleaded guilty on Tuesday to killing Jorelys Rivera on Dec. 2. Her body was found in a trash compactor at the Canton apartment complex where she lived and he worked. At the hearing, Brunn explained his actions in chilling detail before apologizing to Rivera's family. A judge then sentenced him to life in prison without parole.
Earlier Thursday, Canton officials said the city's police chief had resigned after a scathing report found he took a "laid back" approach to the search for Rivera in the north Georgia town.
Chief Jeff Lance stepped down after the 17-page review revealed his department of about 50 officers violated several of its own policies and made many mistakes in the search for Rivera, said city manager Scott Wood.
Rivera was reported missing at her apartment complex about 7:30 p.m. on Dec. 2. Days later, Brunn was charged with her killing.
A call to Lance for comment was not immediately returned.