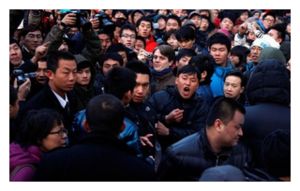 Amidst all the controversy about the
poor working conditions
at the Shenzhen factory that produces its iPhones, Apple officially launched the iPhone 4S at its five mainland China stores Friday morning... only to meet with more controversy.
Like everywhere else in the world, Apple is hugely popular in China, and its stores there "are routinely mobbed for the release of new products," as the
Associated Press describes.
So, when more than a thousand people turned up to queue outside Apple's flagship store in Beijing for the launch of the iPhone 4S, the company was ordered by the police not to open its store to prevent unrest from breaking up.
Well, that only enraged the crowd, many of whom had waited overnight in freezing weather. When the store did not open on schedule at 7am, some in the irate crowd began pelting the store's trademark clear glass walls with eggs while others mouthed off at employees through the windows, the
New York Times reports.
Worth noting is that many of the hundreds who had queued overnight were migrant workers. They were hired by scalpers, who aimed to purchase the coveted phones to resell at jacked-up prices. For a pee of 100 yuan (or $16), migrant workers were bused in to the Beijing store the night before to stand in line.
When the police instructed Apple not to open the store and cordoned off the area with yellow tape, these workers were especially frustrated, because they would now only get a food allowance of 10 yuan after waiting overnight in harsh conditions.
"On the one hand there is poor organization and on the other there were just too many people," a man outside the Sanlitun store Friday, who would give only his surname, Miao, told AP. "I don't think they prepared well enough."
"We were unable to open our store at Sanlitun due to the large crowd, and to ensure the safety of our customers and employees, iPhone will not be available in our retail stores in Beijing and Shanghai for the time being," said Apple spokeswoman Carolyn Wu, according to AP.
At other China Apple stores, the iPhone 4S also sold out in no time, but there were no reports of incidents. Wu confirmed that the product can still be bought in China from Apple's online store, its local carrier China Unicom Ltd. and authorized resellers.
This was the second time in less than 12 months that the Sanlitun, Beijing store had to close temporarily when launching a new product. When Apple introduced its iPad 2 last May, four people were hurt and a glass door was damaged when the huge crowd became rowdy.
Such ugly crowd behavior is of course commonplace: We see it here on Black Friday at stores like Dow Jones component Walmart, Target, Best Buy. As Ian Couzin, a behavioral biologist at Princeton University, explained in a
New Yorker article,
such anti-social behavior that we see in crowds is actually biological.
"With ants, as with human crowds, you see emergent behavior. By using a simple set of local interactions, ants form complex patterns. The difference is that we are selfish individuals, whereas ants are profoundly social creatures. We want to reduce our travel time, even when it is at the expense of others, whereas ants work for the whole colony. In this respect, we are at our most primitive in crowds. We have never evolved a collective intelligence to function in large crowds - we have no way of getting beyond the purely local rules of interaction, as ants can."
Meanwhile, such bad headlines will not stop the Apple onslaught in China. The country is Apple's fast-growing market; with just five stores, it already accounts for one-sixth of the tech giant's global sales. CEO Tim Cook called China "an area of enormous opportunity" in October.