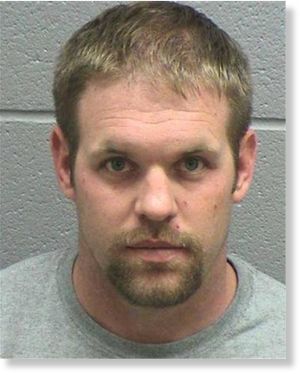 A man arrested on New Years Eve at a Texas airport with explosives is an Army-trained demolitions expert and member of the elite Green Berets who served in Afghanistan and is stationed at Fort Bragg, North Carolina, military officials said on Monday.
Trey Scott Atwater, 30, was being held in the Midland, Texas County Jail on a federal charge of attempting to board an aircraft with an explosive, the FBI said.
He was detained after a routine Transportation Security Administration (TSA) check noticed he had explosives in his carry on luggage while trying to board an American Eagle flight from Midland International Airport to Dallas Saturday morning, according to an FBI statement.
Officials declined to speculate on the reason Atwater had the explosives, which city officials said were in "military grade explosives wrapping" in his bag.
"At no time was there any danger to the people at Midland International Airport or the people of Midland Texas," Mark Morgan, Special Agent in Charge of the El Paso office of the FBI said in a statement.
Michael Martinez, an FBI spokesman in El Paso, declined to say what type of explosive he was carrying, or the quantity of the explosive. It is not known whether he was in uniform at the time. Records show Atwater is a 1999 graduate of a Midland, Texas high school.
The address listed for Atwater in the Midland jail records is the home of Bonnie Atwater, Trey's mother. A woman who identified herself as Bonnie Atwater at that address told Reuters "I have no comment," and then hung up the phone.
Lt. Col. Tom Bryant, a spokesman for Army Special Operations Command at Ft. Bragg confirmed that Atwater is an Army Sergeant First Class in the elite Green Berets, assigned as an instructor at the John F. Kennedy Special Warfare Center and School at Ft. Bragg, where he is a member of the Special Forces Engineers.
Bryant told Reuters on Monday Atwater is an engineering and demolitions expert, and in that role would be "comfortable" with explosives, although he did not know whether he would have had explosives on his trip back home to Midland.
"I can't say if that might have been required," Bryant said.
Bryant confirmed that Atwater recently returned from deployment to Afghanistan. A notice in the
Odessa American
newspaper in March of 2010 said at that time Atwater was preparing for his third deployment to Afghanistan.
Bryant said Atwater's arrest had surprised military personnel at Ft. Bragg.
"We in the Special Operations Command take pride in upholding the highest standards. The entire team is disappointed," Bryant said.
The Army is cooperating with the FBI and local authorities in Texas, and he said military punishment is also possible for Atwater, regardless of the outcome of the federal case.