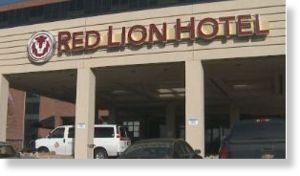 Violence marred New Year's Eve celebrations at the Red Lion Hotel in Aurora where numerous fights broke out, culminating with police shooting an armed suspect, authorities said.
The trouble began at about 11:40 p.m. Saturday when two off-duty officers working a New Year's Eve party at the hotel, located at 3200 S. Parker Rd., called for additional backup to deal with unruly guests, said Aurora Police Sgt. Cassidee Carlson.
Additional officers arrived, but the crowd of approximately 750 people became more aggressive, so even more officers were called in to break up the party.
Several people were arrested.
At about 12:40 p.m., shot were reportedly fired in the lobby. According to Carlson, officers found blood, but nothing more.
"It was later determined that it may have been an assault, not a shooting, and both the victim and suspect ran from the scene," said Carlson.
After the situation in the lobby was brought under control, the violence continued on several floors of the hotel where some party guests had rooms.
"At approximately 2:35 a.m. officers were on scene due to a report of a fight, possibly on the 8th floor," Carlson said. "Responding officers heard shots fired and started to respond to where they heard them coming from. A team of officers encountered an armed man coming down the stairwell as they were going up. Shots were fired and the suspect was struck."
The suspect, whose name was not immediately released, was transported to a local hospital with non-life threatening wounds. No officers were hurt.
Carlson said officers found evidence of a shooting on the 8th floor and checked the entire hotel, but no other victims have been located.
Anyone with information is asked to call Detective Matt Ingui at 303-739-6067.
Source: KDVR-TV