Gigi Wilkins spent the week watching special effects at Disney World, but on Thursday she saw something much more earth shattering.
Literally.
Her vehicle was swallowed by a sinkhole Thursday morning at a rest stop off of Interstate 4 westbound near mile marker 46. Wilkins' 2008 white Ford Escape fell into the hole and her husband's Hyundai Santa Fe was on the verge of falling into the hole located in the rear parking lot of the rest area.
The North Port couple was driving home from Orlando after spending a week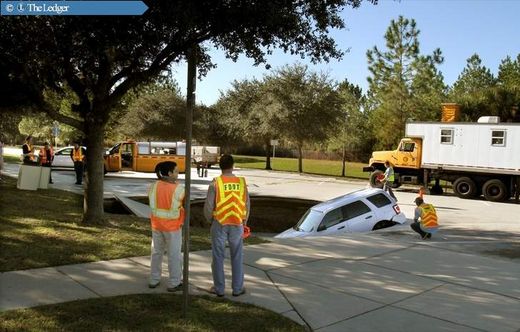 vacationing with family and seeing shows at Disney World. They were parked alongside each other with one parking space between the vehicles.
Wilkins, 53, said she heard a cracking sound as she walked out of the bathroom toward her vehicle around 10:30 a.m. Thursday. She said she started trembling as she watched the ground around her vehicle sink in.
"I was just stunned," Wilkins said.
A second vehicle driven by her husband, Dwight Wilkins, was on the cusp of completely falling into the hole before Florida Department of Transportation workers rescued the vehicle, said FDOT spokeswoman Cindy Clemmons said.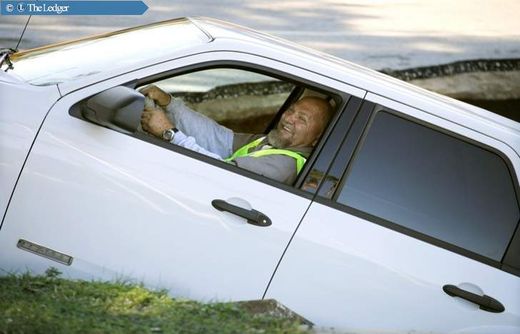 Hours later Gigi Wilkins watched as workers dropped her car into the sinkhole and then pulled it out. The vehicle appeared to have damage to its front end and bumper.
The hole at the time was 30 feet wide and 12 feet deep, Clemmons said. By Thursday evening, the hole's edges continued to crumble and the hole was nearly 40 feet wide.
"It's still active," she said. "The soil keeps dropping."
As of Thursday afternoon, the rest area was still open although the rear area with the sinkhole was roped off.
The two vehicles were unoccupied when the sinkhole opened. Wilkins and her husband were the only ones traveling in the vehicles and were uninjured.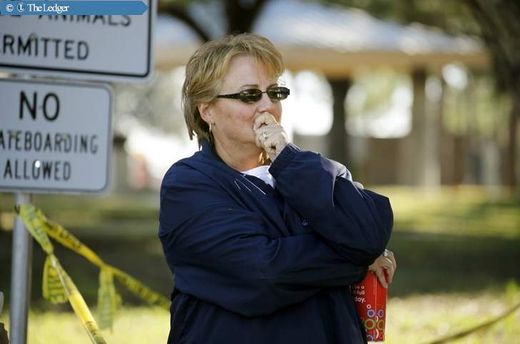 The sinkhole was a result of nature taking its course, Clemmons said. Thursday afternoon FDOT workers continued to assess the hole and determining when it will be filled. Clemmons said the hole could be filled up with a concrete like substance.
Gigi Wilkins said she could not yet estimate damage to the two vehicles. FDOT workers were going to drive the couple home.
She said Thursday's accident felt unreal after she had spent the night before watching a show about vehicle tricks.
"You see your car disappearing and it's kind of surreal," she said.