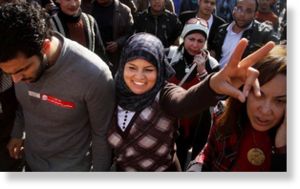 A court on Tuesday banned virginity tests on female detainees in Egypt's military-controlled prisons, buoying human rights groups, who said the civilian court's ruling was binding on the country's military leaders.
The ban came in response to a lawsuit filed by market manager Samira Ibrahim, one of seven women who said they were subjected to humiliating virginity checks after being detained by the military at a March sit-in.
At the time, the ruling generals denied that soldiers had conducted the tests and offered no apologies. A general was later quoted as saying that tests had been carried out but only to protect soldiers from accusations of rape. Last week, the military announced investigations of the incidents.
The generals' management of the country's political transition has drawn intense criticism from activists, but the reports of mistreatment of women at the hands of the military have incensed a broad swath of Egyptians. In recent crackdowns on protesters, soldiers were filmed dragging unarmed women by their hair, beating them, and in at least one case stripping off a woman's clothing and exposing her bra.
The court ruling "prohibits anyone from performing such tests, including the military council," said Gamal Eid, a human rights lawyer. The military "lost something they thought was an entrenched right."
Ibrahim, 25, has been outspoken about her experience and dogged about holding her violators accountable.
The young woman posted a video on YouTube in which she said that after she was detained on March 9, she was electrically shocked with cattle prods, accused of being a prostitute, forced to strip in front of soldiers and then examined by a man in front of laughing soldiers.
The military doctor who conducted the test faces a Jan. 3 hearing in a military court, according to state television. A separate hearing is scheduled for Jan. 8 for three soldiers accused of running over unarmed protesters in October, when more than 26 mostly Christian demonstrators were killed in clashes with security forces.
Activists worry that in both cases the soldiers will be scapegoated while their commanding officers will not be penalized.
Egypt has no law addressing the use of virginity tests in prisons, so the court's outright prohibition of the practice Tuesday represents a significant victory for women, human rights groups and legal experts said.
Gen. Adel el-Mursi, the head of the military judicial authority, said the ruling could not be applied because the military does not conduct forcible virginity tests, according to the state news agency MENA.