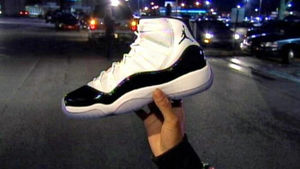 The limited edition shoes sell for $180
A 19-year-old Houston-area man says he was beaten and a friend was slashed in the face as a group of men robbed him of his new pair of expensive Air Jordan shoes.
Efrain Espinoza says the men first tried to steal his cell phone, followed him from a party Monday to his home near Pearland and then swiped the $180 shoes during a fight.
A 19-year-old woman with him required treatment for a stab wound to her face.
"She was stabbed from the cheek to the chin. They did stitches inside and outside," the victim's cousin Virginia Costilla told KPRC in Houston.
Brazoria County officials say they've arrested a 19-year-old woman but declined to elaborate.
Sale of the limited edition shoes last week sparked a shopping frenzy at stores around the nation.