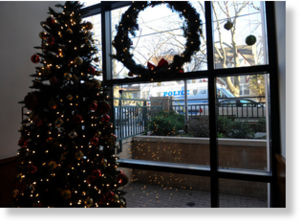 A state tax agent who specialized in investigating the trafficking of illegal cigarettes was shot to death by her husband, a former New York police officer, the authorities said on Sunday.
The body of the investigator, Tracey Young, 42, was discovered by the police and paramedics shortly after 11 p.m. Saturday in her apartment on the eighth floor of 143-41 84th Drive, in Briarwood, Queens. She had been shot several times in the head and torso, and was pronounced dead at the scene.
Early Sunday, Ms. Young's husband, Clarence Cash, 49, turned himself in to the police and was charged with murder and criminal possession of a weapon, according to a spokeswoman for the Queens district attorney's office.
Ms. Young worked in the Criminal Investigations Division of the New York State Department of Taxation and Finance. She was involved in surveillance work and undercover stings against illicit cigarette importers. "She was an energetic, enthusiastic, constantly upbeat investigator," said William Comiskey, a former deputy commissioner of the department. "Her focus was on combating bootleg cigarettes, and it put her into regular contact with people who had the potential for doing violence. She is really going to be missed."
Ms. Young was also the president of the board of the homeowners' association for her building, an eight-floor brick apartment house. Her neighbors described her as invariably helpful and always responsive to problems in the units, adding that she had recently put up a Christmas tree and other decorations in the lobby.
A resident of the building's third floor, who declined to give his name, said he was watching television Saturday night when he heard what sounded like the noise of construction coming from an apartment upstairs.
"It sounded like a big cement hammer - like when you hit the ground," the resident said. He added that he realized it was gunfire only when he heard the news on Sunday morning that Ms. Young had been killed.
Two residents of the sixth floor said they rarely saw Ms. Young, who had lived in the building for only a couple of years, with her husband. They added, however, that they had seen the couple on the elevator within the last few weeks and that they seemed happy.
"As soon as the door opened, they burst out laughing," one of the residents recalled. "They were like two kids in love."
Maple Dong, 28, the board's treasurer, said she last saw Ms. Young on Saturday afternoon when they met to discuss next year's budget. Ms. Young had appeared in good spirits, Ms. Dong recalled, adding that Ms. Young had said her husband had recently given her a Louis Vuitton purse as an early Christmas gift.
Ms. Dong, who saw Ms. Young at least once a month, said the couple seemed happy, adding that Ms. Young never complained about her husband.
"They were very sweet to one another," Ms. Dong said. "They were like a regular married couple."
Ms. Dong said that when she saw the police, she immediately sent an e-mail to Ms. Young, whom she described as the building's "go-to person."
When Ms. Dong did not hear back, she contacted another member of the board on Sunday morning and was shocked when she heard about what happened.
Mr. Cash, who was awaiting arraignment in Queens on Sunday night, could face up to 25 years in prison if convicted of the charges.
Mr. Cash has struggled with financial problems for more than a decade; court records show a federal tax lien, warrants from the state and civil judgments.
According to a relative, Ms. Young's mother was herself murdered 31 years ago.