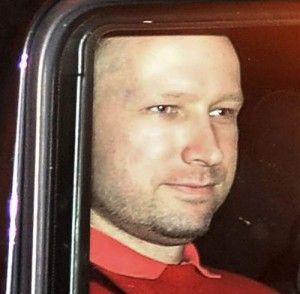 A bomb goes off at the office of the Norwegian Prime Minister's office. Hours later, a lone gunman goes on a killing spree on the island of Utoya. The news are quick to pin the blame to Al-Qa'ida, or in fact, any Muslims. Kurdish organisations, Muammer Gaddafi and Afghanis are mentioned. All without a shred of evidence. Another terrorist attack. Or as Murdoch's Sun newspaper ran with the following morning, "Norway's 9/11".
But something didn't add up. The only person to be arrested was a white man with blonde hair, or "apparently blonde" hair, who spoke fluent Norwegian. The obvious signs were pointing towards the far right.
Sky News
' analysis amounted to, 'he could be an Islamic convert'. Despite the revelation of Anders Behring Breivik's identity, the
Sun
continued with it's front page splash, tactfully removing the planned sub-heading of "Al-Qa'ida Massacre".
Gradually, the
Sky News
hawks, as political hip-hop artist Lowkey summarised on his Twitter feed, began to "swallow their propaganda". Pure racism and Islamophobia, exposed for what they were. This terrorist attack did not fit the desired narrative.
Possible motives for the Breivik massacre began to emerge. Images of the Norwegian ruling party's youth camp on the island of Utoya were published online, where, just days before the attack, teenagers had met with Norwegian Foreign Minister Jonas Gahr Stoere. They had demanded the government recognise a Palestinian state. One photograph shows the Foreign Minister in the foreground, with a banner held up in the background reading "Boikott Israel". Boycott Israel.
A manifesto, written by Breivik, was also discovered. The 1500 page document, entitled "A European Declaration of Independence", reveals a troubling ideology. "Let us fight together with Israel," Breivik writes, "with our Zionist brothers against all anti-Zionists." In a section headed "Controversial principles", the manifesto continues:
Supports the deportation of all Muslims from Europe Pro-Israel (pro-Zionism/Israeli nationalism, supports the deportation of Muslims from the West Bank and the Gaza strip) Pro-Boer/Afrikaner (supporting a partition of South Africa into two parts).
The section also lists China, India, the Phillipines and Sri Lanka as countries that all Muslims should be deported from. Above the section is a quote from John Law:
Before we can do anything, there must be a we.
According to the mainstream media, this "we" does not exist. Breivik was a lone psychopath, and the attack was a complete surprise. The truth is, the twisted ideology he so violently put into action is one that is aided by Cameron's speeches against multiculturalism, Theresa May's war-mongering rhetoric and attempts to deport pro-Palestinian activists, and the EDL's violent demonstrations on the streets. Unless we challenge this ideology in all contexts, people with Breivik's mind-set will continue to gain confidence.