The Canary Islands Government has said it is monitoring an earthquake swarm on the small island of El Hierro where in excess of 400 tremors of low magnitude have been recorded in the past four days.
On Friday, the Ministry of Economy, Finance and Government Security Canary convened the first ever meeting of the Steering Committee and Volcanic Monitoring, reflected in the Specific Plan Protection Civil and Emergency for Volcanic Risk, given what it described "the significant increase in seismic activity".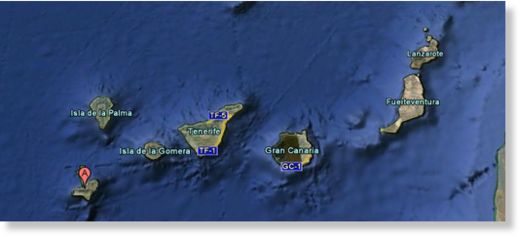 A statement (translated from Spanish) issued following the meeting outlined: "This committee met this morning (Friday) at the headquarters of the Directorate General Security and Emergency Tenerife, established after the assessment of information gathered from seismic and volcanological last July 17 by the National Geographic Institute (IGN) and Volcanological Institute of the Canary Islands, the situation is total normal for the green light for the information population, activating mechanisms for monitoring and oversight needed to coordinate the actions of self civil population and information contained in the Plan."
"According to data provided by the seismic monitoring station IGN's located in Valverde, one can conclude that from the noon on July 17 there has been a significant increase of low magnitude seismic activity in the municipality of Border of the island of El Hierro. To improve the location of this activity, has deployed a seismic network densification operational since July 21 has helped increase the number of earthquakes located, and can be viewed
here
", the statement added.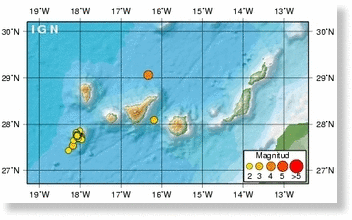 El Hierro, a 278.5 km2 island, is situated in the most southwestern extreme of the Canaries. The origins of the island date back some 100 million years. After three successive eruptions, and consequent accumulations, the island emerged from the ocean as an imposing triangular pyramid crowned by a volcano more than 2,000 metres high.
The volcanic activity, principally at the convergence of the three ridges, resulted in the continual expansion of the island. A mere 50,000 years ago, as a result of seismic tremors which produced massive landslides, a giant piece of the island cracked off, crashed down into the ocean and scattered along the seabed.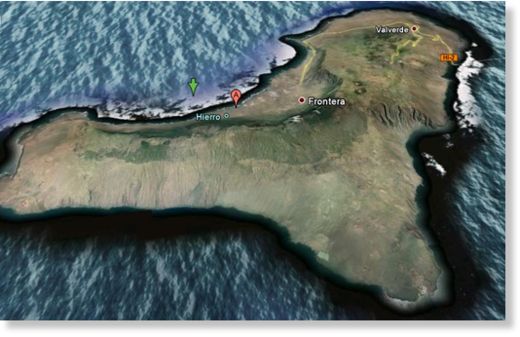 This landslide of more than 300km3 gave rise to the impressive amphitheatre of the El Golfo valley and at the same time caused a tsunami that most likely rose over 100 metres high and probably reached as far as the American coast.
According to ElHierro.com: "Although over 200 years have elapsed since the last eruption, El Hierro has the largest number of volcanoes in the Canaries with over 500 open sky cones, another 300 covered by the most recent outflows, and some 70 caves and volcanic galleries, notably the Don Justo cave whose collection of channels surpasses 6km in length."