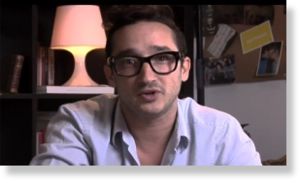 Did the Prime Minister's office distribute a fake anti-flotilla video? This is exactly what some American bloggers have been claiming, after probing a video that was uploaded to YouTube on Sunday.
The video, nearly three minutes long, featured a young man who called himself Marc and claimed to be a gay and human rights activist. The man recounted a story in which he asked the organizers of the upcoming Gaza flotilla to join their mission, and claimed that his request was allegedly denied on the grounds that participation of the gay and lesbian group with which he was affiliated would not serve the flotilla's "interests."
"Marc" explained in the video that he understood why his request was denied only after he researched the people organizing the aid flotilla and found that they had strong ties to Hamas, "whose foreign minister has called homosexuals a minority of perverts, mentally and morally sick," he said in the video.
"Didn't they hear that Hamas shuts down the offices of human rights NGO's? They are slowly taking away the rights and freedoms of women... these are the people the flotilla groups are hugging," he added.
Following the YouTube video's release, U.S. blogger Max Blumenthal found that the recording, which was distributed by Israeli government employee Neil Lazarus on his Facebook page, was a hoax, and that the man who appears in it was actually an Israeli entrepreneur and public relations expert named Omer Gershon.
The video was also tweeted later by Guy Seeman, who was apparently working as an intern in the prime minister's office.
The premier's office refused to comment about Seeman's employment.
Seeman himself said that he did not know that the video was a hoax, and that he did not post the link to the video on behalf of the government, but on his own private Twitter account, and added that he decided on his own to distribute the link after he received it via email.
Haaretz
sent the prime minister's office a series of questions inquiring whether the office was involved in the production of the video in any way. The premier's office in response did not deny that that the government was involved in the video's production, and admitted that government bodies had distributed the link.
"Various bodies dealing with international media campaigns continuously monitor and distribute internet content when they recognize content that can serve Israel's campaigns," the prime minister's office said in a statement.
Omer Gershon was not available for comment on his Facebook account or on the phone.