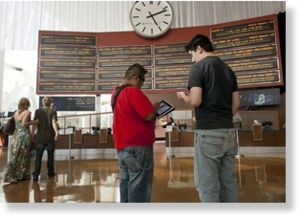 It seems like such a quaint notion: Folks would go to the movie theatre, buy their tickets at the box office, then sit down, shut up and pay attention for two hours to what was on the screen.
Now, the piercing glow of cellphones lights up the darkness like so many pesky fireflies, and people talk to each other in a packed auditorium as if they were sitting in the privacy of their own living rooms.
The Alamo Drafthouse Cinema in Austin, Texas, did something about this trend by kicking out a patron who refused to adhere to the theatre's rule against talking or texting, then turned the ranting, profane voice message she left into a hilarious public service announcement. It's gotten over 1.75 million hits on YouTube in just a couple of weeks.
But what happened to our attention spans? Why must we talk, text and tweet in the middle of a movie? And what - if anything - can theatres do to stop this erosion of cinema civility?
Matt Atchity, editor-in-chief of the Rotten Tomatoes film review website, crafted "10 Commandments for Movie Audiences" including "Thou shalt not text." But the ubiquity of cellphones makes these sensible suggestions hard to enforce.
"Even 10 years ago, not everyone had a phone, not everyone was text messaging. The younger generation grew up and the kids who were texting in class are now the kids who are texting in movies," Atchity said.
He added that Hollywood's focus on the 18-24 demographic is also a factor. "A big opening release is like going to Chuck E. Cheese," Atchity said.
While adults might believe what's on screen deserves their full attention, kids nowadays view the movie-going experience as interactive, said Bill Goodykoontz, film critic for
The Arizona Republic
and father of four.
"They can't imagine seeing anything, including a movie, without immediately supplying their reactions," said Goodykoontz, who's also chief film critic for
Gannett
.
Producer Barry Mendel (
Bridesmaids
) believes the reliance on social media and 24-7 information has bled into every part of our lives - even places that are meant to provide an escape.
"It's very rare in our society to sit and stare at something intensely and without distraction for two hours. People just don't have that muscle anymore," said Mendel, a two-time Oscar nominee for best picture for
The Sixth Sense
and
Munich
.
"It makes me worry for my profession, for making movies," he continued. "In order for a movie to be good, someone needs to sit down and read a screenplay and help the writer make it better. Instead they start reading a script, then they stop reading it and pick it up later."
Rachael Harris (
The Hangover
,
Diary of a Wimpy Kid
) said a guy recently walked in late to a private screening of the new independent film she stars in,
Natural Selection
, sat down next to her and immediately checked his BlackBerry.
"As an actor, you do have a sense of: 'How dare I not be riveting enough that you have to check your email?' You react personally but then you realize it's not personal. It's just bad manners," she said.
But many of the young people who engage in these practices don't think it's a problem because everyone does it. Thirteen-year-old Will Barnes of Frisco, Texas, says he texts sometimes during movies, but tries to be courteous.
"I didn't really like
Thor
, so I just pulled out my phone and texted a little bit. It was during the day so nobody was really in the theatre at the time," Barnes said. "I'm just looking at the screen, I'm not paying attention to what other people are doing. But you see adults doing it and I think it's a little immature for their age to be texting during a movie."
Fourteen-year-old Andrea Lopez of Newhall, Calif., says she leaves her phone on during movies but keeps it on silent: "Normally I'll just text during the end of the movie to have my mom or dad come pick me up."
But when others are blatantly using their phones, Lopez said, "that's ridiculous. Then they're just ruining the movie for everyone else. The least they can do is go outside and talk."
But not all offenders are adolescents: "I am the worst. It annoys my kids," said Tracy Tofte, a 40-year-old real estate agent and mother of two in Santa Clarita, Calif. "If it's a slow part of the movie I can't help looking at my phone and going, 'Oh, I have an email.'"
Theater owners have tried a variety of methods to get folks to keep quiet and stay off their phones, from showing amusing messages beforehand to having ushers sweep through the auditorium during the show, said John Fithian, president of the National Association of Theatre Owners. Some have experimented with dividing moviegoers into over-21 and under-21 auditoriums, but that can get disorganized.
"It's an educational process but we and our members and the people who write about our industry know that the beauty of cinema, first of all, is that it's a shared experience. That means there are shared responsibilities," said Fithian.
With the expansion of the international movie market, mobile phone etiquette has also become an issue in overseas theatres.
Before a movie starts in India, warnings flash on the screen asking people to switch off their phones or put them on silent, yet some folks continue to chat anyway and theatre workers don't kick them out.
Compliance is far better in Hong Kong, where patrons generally heed a message urging them to turn off or silence their phones before the movie.
In Britain, peer pressure usually keeps theatres quiet. Moviegoers are familiar with a long-running series of ads shown beforehand under the slogan: "Don't Let a Mobile Phone Ruin Your Movie." The comic promos feature well-known actors having their movie projects destroyed by a clueless mobile phone executive.
Theatres in China range from plush auditoriums in large cities to basic theatres in smaller towns that may even lack concession stands. So the demographic of moviegoers tends to vary, too, along with their attention to etiquette, with audiences in the higher-end theatres typically more compliant.
Around 2004, the National Association of Theatre Owners investigated technology that would block cellphone signals in U.S. theatres. When word of that got out, responses came flooding in, said Fithian, the NATO president.
Sixty per cent were in favour of the idea, with 40 per cent against it, "but the 40 per cent was violent," he said. "Parents have to stay in touch with their babysitters. People are so focused on how important their jobs are that they had to be in touch 24/7. I felt like asking these people, 'What did you do 15 years ago?'"
Source: The Canadian Press