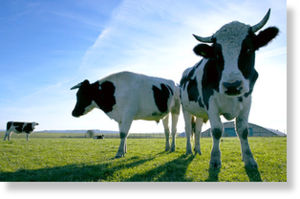 A rural Urbana woman died after a cow attacked her while she was feeding her animals, leaving people baffled.
"It's pretty unusual for a cow to become aggressive," said Terry Engelken, an associate professor at Iowa State University's College of Veterinary Medicine. "We have a few instances of (cow attacks) across the country every year - but it's uncommon. For it to result in a fatality is very uncommon."
Jean Fee, 60, died Saturday after being attacked on the family farm in rural Benton County, the sheriff's office said. She was with her 1-year-old grandson when the attack happened at about 3 p.m.
Her son Matt Fee said his parents and nephew often would go out to pasture to feed the cows ears of corn.
Jean Fee, her husband and her grandson were on such an outing Saturday afternoon. "My dad went back to the house to get my nephew a drink. The last thing he saw was my mom holding" the boy, Matt Fee said.
Matt Fee said that his dad heard screaming, came out to the pasture and saw his wife lying on the ground and the child standing beside her.
"The best we can figure is the cow became aggressive, and my mom was protecting my nephew, and the cow hit her with its head and it stopped her heart," Matt Fee said. Matt Fee said there were three calves in the pasture when the attack occurred.
Engelken said that in many cases people have no idea why cows become aggressive. "It's common for them to become aggressive if they have a newborn calf," he said. "We also just see differences in temperament in cows like we see in dogs and cats and people."
Matt Fee said the farm has been in his father's family for several years. His father has had it for 25 years. As long as he can remember the family had never had a problem with the cows.
Jean Fee was flown to a Cedar Rapids hospital, where she died, according to a news release from the sheriff's office.
Matt Fee said it took 20 minutes for paramedics to arrive.
"They tried to resuscitate her, but she was unresponsive," he said. "They took her to the hospital and she died there."
Friends and neighbors have reached out to the Fees after their sudden loss.
"My mom was the most generous person I've met," he said. "She was the kind of person who wanted to know about you. She was just a very selfless person and didn't ask for anything in return."