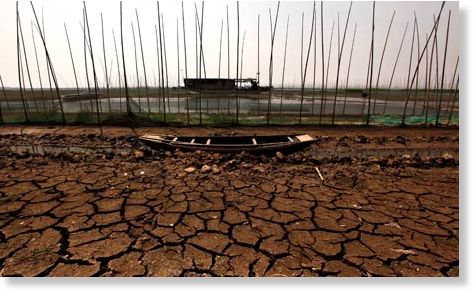 After a 40% rise in global prices over the past year, droughts and floods threaten to seriously damage this year's harvest
Food prices will soar by as much as 30% over the next 10 years, the United Nations and Organisation for Economic Co-operation and Development have predicted.
Angel Gurría, secretary-general of the OECD, said that any further increase in global food prices, which have risen by 40% over the past year, will have a "devastating" impact on the world's poor and is likely to lead to political unrest, famine and starvation. "People are going to be forced either to eat less or find other sources of income."
The joint UN Food and Agriculture Organisation (FAO) and OECD report predicted that the cost of cereals is likely to increase by 20% and the price of meat, particularly chicken, may soar by up to 30%.
World food prices are already at a near-record high as droughts and floods threaten to seriously damage this year's harvest. The report said the global harvest is in a "critical" condition and warned that prices will continue to rise until depleted stocks are rebuilt.
Global food prices hit a record high in February, prompting demonstrations across the world. The last extreme food price rise in 2008 led to riots in 20 countries across three continents.
Gurría called on world leaders to ban speculators from pushing up food prices. The G20 will meet in Paris next week to thrash out a deal aimed at imposing strict rules on trading in food commodities and policies that distort global food market.
French president Nicolas Sarkozy has repeatedly attacked hedge funds and specialised financial institutions for pushing up food prices. "Speculation, panic and lack of transparency have seen prices soaring," he said. "Is that the world we want? France is saying quite clearly it is not."
He compared the lack of regulation on food price speculators to lax regulation that drove financial markets to the "edge of the abyss" during the 2008 financial crisis.
The report predicted global agricultural production would grow at an annual rate of 1.7% a year over the next decade, compared with 2.6% the past 10 years. "Slower growth is expected for most crops, especially oilseeds and coarse grains," it said. "The global slowdown in projected yield improvements of important crops will continue to exert pressure on international prices."
The slowdown in production comes as new forecasts predict the global population will climb to 9.2 billion by 2050, compared with the current level of 6.9 billion. The FAO said agricultural production would have to increase by 70% to match the expected increase.
Meat exports are expected to rise by only 1.7% by 2021, compared with a 4.4% increase over the previous decade. In contrast, fish production is expected to increase by 14.7% over the same period. Most of this will come from fish farms, which are due to overtake open sea fishing by 2015.