Ayman Al-Zawahri succeeds Osama bin Laden as al-Qaida leader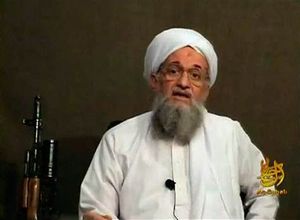 Washington - The United States is just as determined to hunt down and kill al-Qaida's new chief as it did his predecessor, Osama bin Laden, Obama administration officials said on Thursday.
Defense Secretary Robert Gates said Ayman al-Zawahri, al-Qaida's longtime second-in-command and now its top leader, does not have the "peculiar charisma" and operational experience of bin Laden, who was killed by U.S. forces last month.
But Gates and other U.S. officials said al-Qaida remains a threat despite its loss of bin Laden, who was considered the driving force behind the Sept. 11, 2001, attacks on the United States.
"We should be mindful that ... al-Qaida seeks to perpetuate itself, seeks to find replacements to those that have been killed and remains committed to the agenda that bin Laden put before them," Gates told reporters.
"So I think he's (Zawahri's) got some challenges but I think it's a reminder that they are still out there and we still need to keep after them," he said.
Adm. Mike Mullen, chairman of the Joint Chiefs of Staff, made clear that Zawahri - an Egyptian-born ideologue - remains high on the U.S. list of hunted militants.
"He and his organization still threaten us. And as we did seek to capture and kill - and succeed in killing - bin Laden, we certainly will do the same thing with Zawahri," Mullen told reporters.
Zawahri has taken over the leadership after the killing of bin Laden, the group said on Islamist websites on Thursday.
"The general leadership of al-Qaida group, after the completion of consultation, announces that Sheikh Dr. Ayman Zawahri, may God give him success, has assumed responsibility for command of the group," the Islamist website Ansar al-Mujahedeen (Followers of the Holy Warriors) said in a statement.
'No surprise'
The White House said Zawahri's rise had been expected since he had long served as bin Laden's deputy, but the State Department said it "barely matters" who the new leader was, contending the violent Islamist group's influence was on the wane.
"It's neither surprising nor does it change some fundamental facts," White House spokesman Jay Carney told reporters. "Al-Qaida's ideology is bankrupt. The fact is the peaceful movements for change are the future of the region and al-Qaida is the past."
U.S. officials, in a rhetorical campaign that seemed designed to undercut the new al Qaeda leader, also raised doubts about whether Zawahri had the personality to emulate the unifying role played by bin Laden. Bin Laden was the network's founding figurehead and became a global symbol of Islamist militancy despised in the West but admired by some in Muslim countries.
"He hasn't demonstrated strong leadership or organizational skills during his time in AQ," a senior administration official said. "His ascension to the top leadership spot will likely generate criticism if not alienation and dissension (within al-Qaida)."
Gates said he understood there was also some suspicion among militants because Zawahri is Egyptian.
The brains behind much of al-Qaida's strategy, al-Zawahri vowed this month to press ahead with the group's campaign against the United States and its allies.
His whereabouts are unknown, although he has long been thought to be hiding along the border between Afghanistan and Pakistan. The U.S. is offering a $25 million reward for any information leading to his capture or conviction.
Al-Zawahri, who turns 60 on Sunday, has long brought ideological fire, tactics and organizational skills to al-Qaida. The surgeon by training was first behind the use of the suicide bombings and independent terror cells that have become the network's trademarks.
His fanaticism and the depth of his hatred for the United States and Israel are likely to define al-Qaida's actions under his tutelage. In a 2001 treatise that offered a glimpse of his violent thoughts, al-Zawahri set down al-Qaida's strategy: to inflict "as many casualties as possible" on the Americans.
"Pursuing the Americans and Jews is not an impossible task," he wrote. "Killing them is not impossible, whether by a bullet, a knife stab, a bomb or a strike with an iron bar."
He has appeared in dozens of videos and audio tapes in recent years , increasingly becoming the face of al-Qaida as bin Laden kept a lower profile.
'He's a politician'
He and bin Laden first crossed paths in the late 1980s in the caves of Afghanistan, where al-Zawahri reportedly provided medical treatment to bin Laden and other Islamic fighters battling Soviet forces. Their alliance would develop years later into the terror network blamed for America's worst terror attack in its history.
Noman Benotman, a former associate of both bin Laden and al-Zawahri's, told msnbc.com that the new leader would likely seek to capitalize on unrest the Middle East.
"I think he will try to politicize al-Qaida," the former commander in the Libyan Islamic Fighting Group (LIFG) said. "He's a politician but a violent one."
Benotman, who now eschews violence and is a senior analyst at British counter-extremist think tank Quilliam, predicted that al-Zawahriwould try to reorganize al-Qaida, establish new cells and adjust tactics.
However, the organization's goals are likely to remain the same.
"They believe they have a mission to mobilize (all Muslims) when the nation fails to do that," Benotman said.
U.S. intelligence officials have said that some al-Qaida members find al-Zawahri to be a controlling micromanager who lacks bin Laden's appeal.
"Bin Laden was regarded by his militant followers as a very charismatic leader," Professor Paul Wilkinson, of the Centre for the Study of Terrorism and Political Violence at St Andrews University in Scotland, told msnbc.com. However, al-Zawahri was seen as "more of a strategist" who helped al-Qaida develop expertise in urban terrorism.
Journalist and author Peter Bergen told NBC News after bin Laden's death in May that al-Zawahri would likely have trouble succeeding the popular leader.
"When you join al-Qaida you don't swear an oath of allegiance to al-Qaida," he said. "You swear a personal oath of allegiance to Osama bin Laden. That's why replacing him is going to be very difficult.
"He's not well-liked or well-regarded, even by people in his own Egyptian sort of jihad group,"
he said. "He's regarded as a divisive figure."
According to Bergen, many people who knew bin Laden said they loved him even if they disagreed with his methods.
"No one describes feelings of love for Ayman al-Zawahri," Bergen added.
The Associated Press, Reuters and msnbc.com staff contributed to this report.