About mallee
"Mallee" is a region of northwestern Victoria, Australia. It occupies about 16,000 square miles (41,000 square km), between the Wimmera and Murray rivers, and its climate is semi-arid, with only 10–12 inches (250–300 mm) of rainfall annually. Encyclopædia Britannica. 2007. Encyclopædia Britannica Online. 3 Aug. 2007 http://www.britannica.com/eb/article-9050347.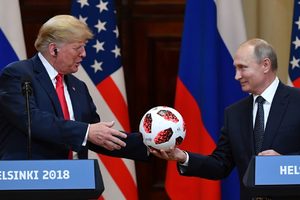 So much winning
Who controls the past controls the future. Who controls the present controls the past.
- George Orwell
Recent Comments
Mr Mueller will be joining Killary in prison.
---
Tic toc, Clinton scum! Till we ALL are partying that you and your buddy's, including the last president, are in prison!!
---
Each so called disclosure, becomes more fantastical than the next. is it any wonder the vast majority of the public cant distinguish fact from...
---
Trump is clearly Saruman to Putin's Sauron. [Link]
---
Quoting Miles Mathis: "If you're not shaking your head you don't have a neck."