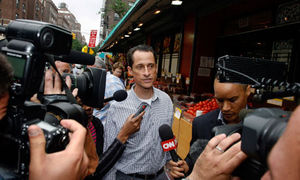 Embattled Democrat Anthony Weiner announced he has requested a leave of absence from Congress following growing pressure from senior party members to resign after admitting he sent sexually suggestive images of himself to several women.
A spokeswoman for the 46-year-old New York congressman made the disclosure in a statement shortly after Democratic leaders demanded Weiner quit, adding that he would be receiving "professional treatment" at an undisclosed location. The House Democrat leader, Nancy Pelosi, said Weiner had "the love of his family, the confidence of his constituents and the recognition that he needs help". Congresswoman Debbie Wasserman Schultz, chairwoman of the Democratic National Committee, described the incident as a sordid affair that had become "an unacceptable distraction".
Weiner's spokeswoman, Risa Heller, revealed that the congressman had departed "to seek professional treatment to focus on becoming a better husband and healthier person". She added: "In light of that, he will request a short leave of absence from the House of Representatives so that he can get evaluated and map out a course of treatment to make himself well."
The development came just 24 hours after Weiner first acknowledged he had exchanged online messages with a 17-year-old girl in the state of Delaware, although he insisted nothing improper had passed between them. He also finally admitted sending a picture of himself in his underpants via Twitter to another woman.
Democrats said the concerted call for Weiner's resignation had been brewing for days, as senior party officials concluded the scandal was interfering with their attempts to gain political momentum in advance of the 2012 elections. Democrats hope to rebound from a devastating election last November in which the Republicans won control of the House.
"We had decided we were not going to have one more week of Anthony Weinergate," said one official, who spoke on condition of anonymity.
The official added that Pelosi had spoken numerous times with Weiner in an attempt to persuade him to step down for the good of the party, telling him that because of the media focus on his predicament their attacks on a Republican Medicare proposal were going unnoticed. The Republicans have proposed major cuts in the government-run Medicare programme which provides healthcare to the elderly.
Pelosi, Wasserman Schultz and others had been notably reticent in public in the days since Weiner held a news conference to announce he had exchanged lewd photos, and more, with a handful of women. On Thursday, an X-rated photo surfaced on a website, and in response, Weiner's office issued a statement that did not deny it had been taken of him.
Weiner is married to Huma Abedin, a top aide to Hillary Clinton. She is pregnant with the couple's first child and is travelling with Clinton in Africa.