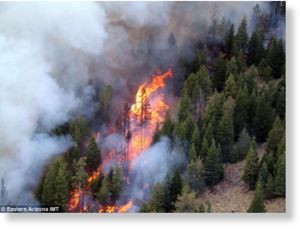 A massive wildfire continued to force evacuations Monday from towns in the eastern part of Arizona and threatened more communities as flames pushed toward New Mexico.
The so-called Wallow Fire, burning across Arizona wilderness and the Apache National Forest, has grown to 233,000 acres since it started more than a week ago. The fire, the third-largest in state history, has forced 2,100 people to flee their homes.
More than 2,000 firefighters fought to contain the blaze as hot winds whipped flames across tree tops and threw embers as far as three miles. The small mountain communities of Alpine and Nutrioso were evacuated, and hundreds of residents in other towns were told to prepare to leave. The fire destroyed several ranches, but no deaths or injuries were reported, fire officials said Monday.
"We're feeling lucky right now, but we're preparing for the worst," said Jane Lenci, general manager of Hidden Meadow Ranch near Greer, an Arizona town that officials said should be ready to evacuate. Ms. Lenci had already evacuated the ranch's 48 horses. Guests left as smoke in the area became heavier during the weekend.
But Ms. Lenci, who lives on the ranch, and other staff members remained. Some workers who lived closer to the fire evacuated to the ranch with their family members, she said.
Three other large fires burned through forests in the southern part of the state, with two expected to merge into one larger fire late Monday. Those fires so far haven't prompted large-scale evacuations or burned any private structures or residences.
The focus remained on the Wallow Fire, which Arizona Gov. Jan. Brewer surveyed by air during the weekend. Officials in neighboring New Mexico braced Monday for the fire to cross into their state. The fire line blazed just two miles from the border, said Zina McGuire, fire Marshal for Catron County, N.M.
"This fire is moving fast. It will do whatever it wants," Ms. McGuire said.
Fire officials in New Mexico set up a command center in Luna, a mountain village of around 250 people founded by Mormons, and the first settlement likely to be affected if the fire crossed over the state border. Some in Luna had already evacuated because of smoke.