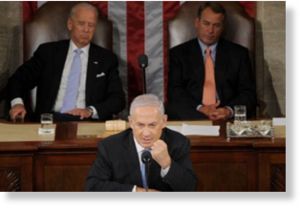 Palestinians have slammed Israeli Prime Minister Benjamin Netanyahu for refusing to withdraw to borders set before the 1967 Israeli-Arab war as the basis for negotiations.
Addressing the US Congress on Tuesday, Netanyahu ruled out a return to what he has repeatedly described as "indefensible" pre-1967 borders.
He also pledged to keep key parts of the occupied West Bank, including East al-Quds (Jerusalem) -- which is widely regarded as the future capital of an independent Palestinian state.
Wrapping up his chaotic visit to Washington, the Israeli premier, however, claimed that he was willing to make "painful compromises" and abandon "some" Jewish settlements in the occupied West Bank.
Netanyahu's outright refusal came a week after US President Barack Obama insisted that the borders issue should be the basis for stalled direct talks between Israel and the Palestinian Authority.
The hardline position of the Israeli official in his arranged address in the US Congress has brought strong reactions from Palestinians, the Associated Press reported.
In the Gaza Strip, the democratically elected government of Hamas condemned Netanyahu's speech, stressing once again that the only path towards freedom is through resistance.
"Netanyahu denied us all our rights," said Sami Abu Zuhri, a Hamas spokesman. "We must work to adopt an Arab and Palestinian strategy based on the right of resistance."
And in Ramallah, any hopes that Netanyahu might give ground were quickly dampened.
"This was a statement of someone who wants to dictate the results of negotiations before they begin," said Saeb Erekat, an aide to the Palestinian Authority chief Mahmoud Abbas.
"He dictated that Jerusalem will be undivided, that refugees cannot return, that his army will remain on the borders, that his settlements will be expanded and kept, that he wants Palestine to be demilitarized," Erekat said.
Meanwhile, Nabil Shaath, another aide to Abbas,
called Netanyahu's speech a "declaration of war against the Palestinians."
The Palestinian Authority is now pinning hopes on a plan to seek statehood unilaterally at the United Nations in September -- something Israel and the US oppose.
This is while more than 100 countries have so far officially recognized Palestine as a state based on the 1967 borders, the boundaries that existed before Israel captured East al-Quds (Jerusalem), the West Bank, and the Gaza Strip.