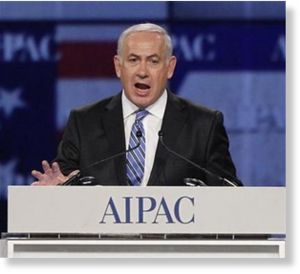 Israel is prepared to make "painful compromises" for peace with the Palestinians, including the handover of land they seek for a state, Prime Minister Benjamin Netanyahu told Congress on Tuesday.
Palestinians swiftly dismissed the Israeli leader's terms for a deal as placing more obstacles in diplomacy's way, casting doubt as to whether frozen peace talks would resume anytime soon.
Netanyahu received frequent standing ovations in addressing the joint meeting of Congress, a bastion of support for Israel. The speech came after a testy exchange last week with President Barack Obama over the contours of a future Palestine and Netanyahu used it to reiterate his expectations ahead of any talks.
They included Palestinian recognition of Israel as the homeland of the Jewish people and the scrapping of Western-backed Palestinian President Mahmoud Abbas' unity accord with the Islamist movement Hamas.
"Tear up your pact with Hamas. Sit down and negotiate. Make peace with the Jewish state," Netanyahu said.
"I am willing to make painful compromises to achieve this historical peace. As the leader of Israel, it is my responsibility," the right-wing leader said, echoing a pledge in a speech to Israel's parliament on May 15.
"Now this is not easy for me. It's not easy because I recognize that in a genuine peace we will be required to give up parts of the ancestral Jewish homeland," he said, referring to the occupied West Bank.
Netanyahu explicitly suggested for the first time that Israel would cede some Jewish settlements in the West Bank, although others would be annexed under any future agreement.
"In any peace agreement that ends the conflict, some settlements will end up beyond Israel's borders. The precise delineation of those borders must be negotiated," Netanyahu said.
'Compromise Must Reflect Dramatic Changes'
Netanyahu said any "compromise must reflect the dramatic demographic changes that have occurred," referring to Israel's construction of hundreds of settlements on land Palestinians want for a state.
Repeating a message he has delivered consistently during a five-day visit to Washington, Netanyahu said "Israel will not return to the indefensible boundaries of 1967," narrow lines from before Israel captured the West Bank in a war 44 years ago.
Obama drew Israeli anger when he said on Thursday a Palestinian state in the West Bank and Gaza Strip should largely be drawn along the pre-1967 frontiers.
A frosty meeting with Netanyahu followed at the White House on Friday when the Israeli leader, with Obama sitting at his side, rejected those borders.
On Sunday, Obama seemed to ease Israeli anger by making clear Israel would likely be able to negotiate keeping some settlements as part of a land swap in any deal with the Palestinians.
The White House offered a low-key response to Netanyahu's speech. Ben Rhodes, a deputy national security adviser, said in London that the Israeli leader had "reaffirmed the strength of the U.S.-Israeli relationship" and had "pointed to the importance of peace." Obama is visiting London.
Nabil Abu Rdainah, a spokesman for Abbas, said Netanyahu's vision for ending the conflict put "more obstacles" in front of the Middle East peace process.
"What came in Netanyahu's speech will not lead to peace," Rdainah said in the West Bank city of Ramallah, rejecting Netanyahu's call to hold onto swathes of West Bank land including East Jerusalem, where Palestinians want their capital.
Hani Masry, a Palestinian analyst said Netanyahu "wants the Palestinians to give up everything and get a state of leftovers."
On the other side, settler leaders and members from Netanyahu's own Likud party also voiced their objections, but with no diplomatic breakthrough in sight, his ruling coalition did not seem to be in jeopardy.
Netanyahu's address was greeted warmly by congressional leaders. Some Israelis pointed to that reception as a success while others thought he had not offered enough to break the diplomatic deadlock.
"What he's offering I don't think you would find even the most moderate Palestinians would buy into," David Newman, an Israeli political scientist, said. "He's offering a truncated West Bank. He wants to leave as many settlements as possible."
Netanyahu called on Palestinians to see their future "homeland," rather than Israel, as the place to resolve the issue of Palestinian refugees.
He again voiced opposition to a planned bid by the Palestinians to seek U.N. recognition of statehood in September in the absence of peace talks.
"Peace cannot be imposed," he said. "It must be negotiated."