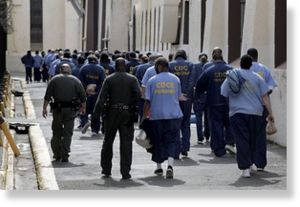 The U.S. Supreme Court ordered California on Monday to reduce the population of its jammed prisons by more than 30,000 in two years to repair a health care system that lower courts found was defying constitutional standards and endangering guards as well as inmates.
Federal judges rightly found that overcrowding in a prison system that has held nearly twice its designed capacity for more than a decade was the main cause of "grossly inadequate provision of medical and mental health care," the court said in a 5-4 ruling.
"Needless suffering and death have been the well-documented result," Justice Anthony Kennedy said in the majority opinion.
He cited evidence from two decades of litigation: mentally ill prisoners waiting up to a year for treatment, suicidal inmates held for 24 hours in phone booth-sized cages without toilets, waiting lists of 700 inmates for a single doctor, and gyms converted into triple-bunked living quarters that breed disease and violence victimizing guards and inmates alike.
Death toll
A federal judge found in 2006 that shoddy prison health care in California was responsible for the death of one inmate a week, Kennedy noted.
"The medical and mental health care provided by California's prisons falls below the standard of decency that inheres in the Eighth Amendment," which bans cruel and unusual punishment, said Kennedy, joined by the court's more liberal justices.
Under the ruling, California's prison population of 143,000 must be reduced to 110,000 by mid-2013. Critics both on and off the bench forecast a wave of dangerous felons on the streets.
Justice Samuel Alito, in a dissent joined by Chief Justice John Roberts, said the majority was loosing "the equivalent of three Army divisions" of criminals and was "gambling with the safety of the people of California."
Assembly Republican leader Connie Conway of Tulare said Californians "could be at serious risk of becoming victims of crime ... as a result of this reckless and irresponsible decision."
One alternative
But Gov. Jerry Brown's administration, while critical of the ruling, said the state could comply without releasing any dangerous criminals - if Republicans approve Brown's budget proposal to shift thousands of low-level offenders and parole violators from state prisons to county jails.
"If realignment is done quickly and fully as the governor proposed, it will solve this problem," said Matthew Cate, Brown's prison director. "Our goal is to not release inmates at all."
The California State Sheriffs Association chimed in, saying Brown's plan - as long as it is accompanied by more state funding for counties - is "a way to ensure this is not a massive release of prisoners."
But Republicans have opposed Brown's plan on two grounds: The governor wants to extend tax increases to pay for it, and it would arguably reduce punishment by allowing some felons to avoid state prison.
Sentencing overhaul
At the other end of the spectrum, the American Civil Liberties Union said the ruling should prompt the state to ease some of the nation's harshest sentencing laws by, for example, making it a misdemeanor instead of a felony to write a $450 bad check or possess drugs for personal use.
"California locks up too many people who pose no threat to public safety and keeps them locked up for too long," said Allen Hopper, an ACLU attorney in San Francisco.
Inmates claiming that prisons provided substandard mental health treatment first sued the state in 1990. They were joined in 2001 by prisoners suing over medical care.
A federal judge appointed a receiver to manage the health care system in 2006, saying state officials were unable to comply with constitutional standards. After a trial in 2009, a three-judge panel said the system could be repaired only if the state first addressed overcrowding. At the time, there were 156,000 inmates in a system designed for 80,000.
Reductions to date
While fighting the courts' authority to lower the prison population, state officials have responded to the litigation by making their own reductions.
Then-Gov. Arnold Schwarzenegger declared an overcrowding "state of emergency" in 2006 and transferred nearly 10,000 prisoners to other states. He also acted with lawmakers to speed up the releases of some low-risk inmates and step returning parolees to prison for minor violations.
In upholding the panel's order, the Supreme Court said California's "serious constitutional violations ... have persisted for years. They remain uncorrected."
Kennedy said the three-judge panel had heard expert testimony by former prison directors in California and other states that prison populations can be reduced in a way that "does not increase crime to a significant degree."
The court also upheld the panel's two-year deadline for lowering the prison population but said state officials might ask the three judges for more time - five years, for example - because of "changing political, economic and other circumstances."
Cate said the Brown administration would seek an extension "if that's what public safety requires."
The ruling in
Brown vs. Plata
, 09-1233 can be read at links.sfgate.com/ZKZF.