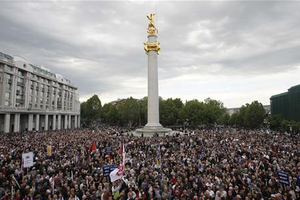 Some 10,000 Georgians rallied in Tbilisi demanding President Mikheil Saakashvili resign, while in the southwestern town of Batumi a witness said demonstrators tried to break into a television building.
Tsira Abuladze, head of news at state television in the autonomous Adjara region on the Black Sea, told Reuters by telephone from Batumi that a crowd of up to 400 people had pushed at doors and threw stones at windows.
Russian news agencies reported police fired at protestors. Abuladze said police did not use weapons but added that several policemen were wounded in scuffles. She said that after an encounter with the police, attackers had left the square.
President Saakashvili eased out the Moscow-backed leader of Adjara in 2004, strengthening Tbilisi's control over the region. But the regions of South Ossetia and Abkhazia, also supported by Moscow, remain beyond Tbilisi's control.
Weakened by war with Russia in 2008, Saakashvili has since reasserted control, overcoming months of protests in 2009.
Opponents accuse Saakashvili of imposing autocratic rule on Georgia, a former Soviet republic that sits astride important road and rail links and energy transit routes from the Caspian to western Europe.
Protesters led by former Saakashvili ally and parliament speaker Nino Burjanadze marched along Tbilisi's main thoroughfare, blocking traffic, and then staged a rally at the central Freedom square.
"We will fight to the end together with you. It is the final and decisive fight for all of us and we are not going to take any steps back," Nino Burjanadze told the crowd.
"We cannot wait until the next election and if we do not want to wait we should act now." Burjanadze led the crowd to the Georgian state television building where the protesters, as in Batumi, demanded air time before dispersing.
Saakashvili's United National Movement won local elections in Georgia in May 2010 in the first electoral test of the government since the 2008 war with Russia over rebel South Ossetia.Saakashvili's term in office ends in 2013.