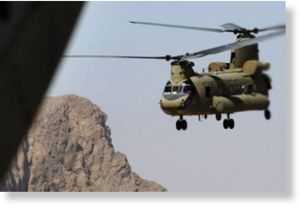 At least two Pakistani soldiers have been wounded when NATO helicopters targeted a security checkpoint in Pakistan's northwestern tribal region.
The Western alliance choppers violated Pakistani air space early Tuesday and shelled a military post in Datta Khel district of North Waziristan Agency, local authorities told Press TV.
The motive behind the attack remains unknown.
On Monday, unauthorized US drone strikes killed at least 12 people in the same region in Pakistan.
The United States has carried out numerous attacks on Pakistan's tribal areas.
The aerial raids, initiated by former US President George W. Bush, have been escalated under President Barack Obama.
Washington claims the strikes target militants. However, the attacks, conducted by CIA in coordination with the US military forces, have reportedly claimed the lives of hundreds of civilians in Pakistan since 2008.
The issue of civilian casualties has strained relations between Islamabad and Washington with the Pakistani government calling the non-UN-sanctioned strikes, unilateral US action and a violation of Pakistan's sovereignty.
The latest incident comes a day after US Democratic Senator John Kerry visited Islamabad in an attempt to patch up strained relations between the two countries.
The veteran US Senator, who heads the foreign affairs committee of the US Senate, later told a press conference that he was able to persuade Islamabad to work with Washington in any future action against "high-value targets" in the South Asian country.
Kerry also defended the "unauthorized" attack by US special forces in Pakistani territory, which allegedly led to the killing of al-Qaeda leader Osama bin Laden on May 1.
Pakistan has expressed anger that it was not informed in advance about the raid and that its sovereignty was violated.
Washington has, however, rejected growing arguments that the US military effort against bin Laden in Pakistan was illegal, claiming that the overseas operation was "an act of national self-defense."