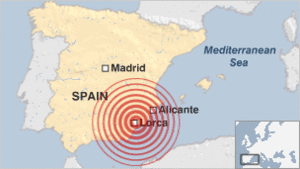 A magnitude 5.3 earthquake has toppled several buildings in southern Spain, near the town of Lorca, killing at least four people, officials say.
The quake struck at a depth of just 1km (0.6 miles), some 120km south-west of Alicante, at 1850 (1650 GMT), the US Geological Survey reported.
TV shots showed rescue workers rushing through debris-littered streets.
Lorca Mayor Francisco Jodar told local radio the four deaths were caused by falling debris and cave-ins.
Old buildings, including a clocktower, were badly damaged by the quake, which followed a smaller 4.4-magnitude quake about two hours earlier.
Spain's Prime Minister Jose Luis Rodriguez Zapatero has deployed emergency military units to the scene, the Spanish EFE news agency reported.
Earthquakes are common in southern Spain, but they rarely result in casualties.
A number of aftershocks have been felt in the Murcia region, where authorities fear the death toll could rise.
The area worst hit by Tuesday's quake suffered previous tremors in 2005 and 1999.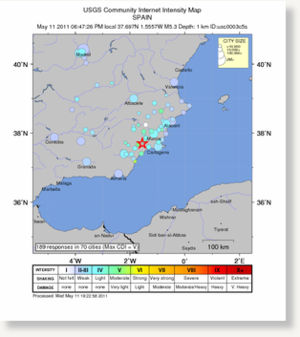 Data from
USGS
.