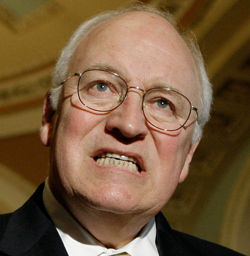 Former Vice President Dick Cheney says he hasn't decided whether to seek a heart transplant.
Cheney tells "Fox News Sunday" that his health has improved since last year, when he was diagnosed with end-stage heart failure. He had an operation last summer to fit his body with a battery-powered device that helps his heart pump blood.
In his Fox appearance, Cheney spoke with a raspy voice and appeared less gaunt than he had in the months following the operation.
Cheney says he's working on a book and planning a fishing trip later in May.
Asked how he could go fishing safely with an electrical device attached to his body, the 70-year-old former vice president quipped, "You're not supposed to fall in."