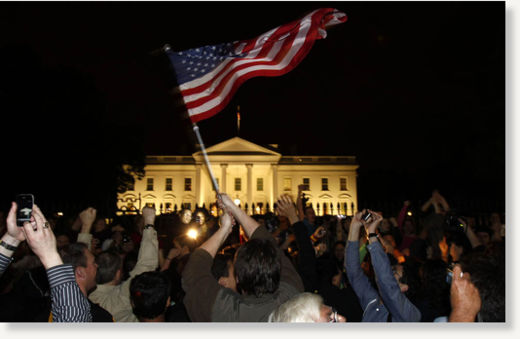 At O'Connell's bar in Long Beach, two patrons walked in, announced "Osama bin Laden is dead!" and told the bartender to change the channel on the television. At first, no one believed them.
But slowly, all eyes looked up from their pints of beer and started to fixate on television screens showing clips of President Obama's remarks and the crowd gatherin
"It's crazy that we're celebrating a death, but this is a good thing for our country," said Kristen Lawson, 30, of Long Beach.
She wondered what the news means for the war in Afghanistan: "This is exactly what we're there for," she said.
Antoinette Collins, 26, of Whittier learned the news from a text message sent by a friend in the military. ("Osama is dead," the terse message said).
Collins comes from a military family and thinks Bin Laden's death is a positive development for the war and a victory for Obama, but she worries about retaliation from terrorists.
"I mean, we killed their leader," she said.
Collins said she also wants proof that that they got the right guy beyond the confirmation by news outlets or even the speech by President Obama.
"When are they going to show us the body?" she said.
Jaime Cox, 33, a pastry chef from Bellflower, said she went through a huge range of emotions when she realized what had happened.
"I've got goosebumps, I felt like crying," said Cox, adding that she remembers the 9/11 attacks as her generation's "JFK moment."
But for Cox, Bin Laden is only one man, and she wants to know how the killing bodes for the war.
"People were shocked because it's been 10 years already," she said. "But what happens next? What does this mean?"