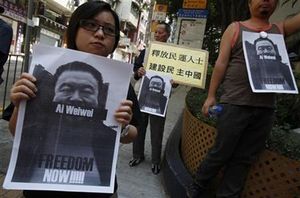 Beijing - The Chinese government warned on Tuesday against using human rights disputes as what it called a tool to meddle, ahead of talks with the United States that will focus on complaints about Beijing's crackdown on dissent.
The two-day-long human rights dialogue, from Wednesday, with U.S. Assistant Secretary for Democracy, Human Rights and Labor Michael Posner and other Washington officials, will come at a sensitive time over the issue, long a sore point with Beijing.
Chinese Foreign Ministry spokesman Hong Lei said his government was willing to discuss rights issues with the United States as equals. But he warned against what Beijing sees as Western over-reaching.
"When it comes to differences between China and the United States over human rights, the two sides can enhance mutual understanding on a basis of equality and mutual respect," Hong told a regular news conference.
"We oppose any country using human rights issues as an excuse to interfere in China's domestic affairs."
China's position augurs little movement from the talks in Beijing. China has jailed, detained or placed in secretive informal custody dozens of dissidents, human rights lawyers and protesters it fears will challenge Communist Party rule, drawing an outcry from Washington and other Western capitals.
Beijing police have also detained or placed under house arrest members of a Protestant "house" church who have tried to worship outside after they were evicted from the rented premises they had been using.
The U.S. State Department has said it wants to discuss with China "the recent negative trend of forced disappearances, extralegal detention, and arrests and convictions".
U.S. Secretary of State Hillary Clinton said earlier this month that she was "deeply concerned" about China's clampdown and cited "negative trends", including the detention of Chinese artist and human rights activist Ai Weiwei.
Ai, 53, was detained on April 3 as he was about to board a flight to Hong Kong from Beijing. Chinese police said Ai, a critic of China's ruling Communist Party, was under investigation for "suspected economic crimes".
Hong dismissed foreign criticism of the detention of Ai.
"China does not fear the antagonism of other countries, but of course I hope the countries concerned and their publics will be patient in waiting the outcome of the public security investigation into Ai Weiwei," he said.
Ai's sister, Gao Ge, told Reuters that she hoped pressure from the United States would help free her brother, who she said was being persecuted for his outspoken activism.
"Of course I really hope that Weiwei's case is bought up, that he is supported," she said of the rights dialogue. "I think the whole world is paying attention."