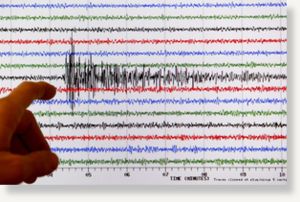 Several aftershocks have been felt by residents in parts of north Queensland following a 5.2-magnitude earthquake.
The quake, one of the largest to hit the state in many years, was recorded 60 kilometres west of Bowen just after 3.30pm (AEST) Saturday.
The rumblings were felt in several towns throughout the region, but police say there are no reports of damage or injuries.
There have been several aftershocks, with one registering a magnitude 4.
Burdekin resident Karon Mugica says her home shook violently.
"My husband and I looked at each other and he's never looked at me like that before we were quite frightened, we just didn't know what it was, whether it was an explosion," she said.
Burdekin Shire Council chief executive Ken Holt says the earth was rumbling at his Ayr home.
"For a while I thought the roof may fall in so I actually ran outside," he said.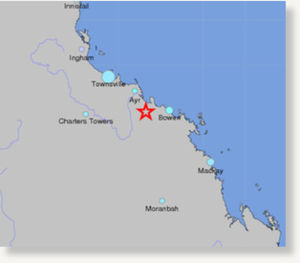 Townsville resident Juanita Bruce Urquhart told ABC News Online the tremor did not last long.
"Walls shook and windows rattled. Duration no more than eight to 10 seconds. No damage apparent," she said.
Sarah Fitzgerald lives at Kuttabul, north of Mackay, and also felt the tremor.
"It felt like something was running into the house," she told ABC News Online.
"I wasn't sure what had happened until I read the news. It is all a little scary.
"You hear about these things but it's a little close to home. Now I didn't think we had earthquakes here."
Geoscience Australia seismologist David Jepsen says Saturday's earthquake was a rare event and the state's biggest in more than 70 years.
"There have been quite a few in the early 1900s and the last big one was a 5.5 in 1935 west of Fraser Island. And then there was one near Charters Towers in 1913, about 5.7. Queensland doesn't get too many of this magnitude type event," he said.
John Patrick, from Kelso south of Townsville, said there was "two distinct vibrations".
"The weaker one occurred first followed a few seconds later by a stronger one of longer duration," he told ABC News Online.
Earlier reports said the quake was measured at a magnitude of 5.4.