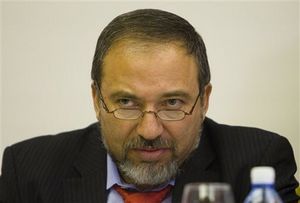 Israeli officials often conduct radio interviews at home, but listeners got an unexpected insight into just where their foreign minister was when he punctuated his comments with a toilet flush.
Israeli news site
Ynet.com
reported Tuesday that the unusual soundtrack to foreign minister Avigdor Lieberman's interview came as he was addressing the issue of a flare-up of violence with Palestinian Islamist group Hamas.
During the Monday interview, the controversial head of the ultra-nationalist Yisrael Beitenu made reference to the group, telling the public radio station: "We know who we're dealing with." And then apparently flushed the toilet.
Lieberman's Yisrael Beitenu is the third biggest party in the Israeli Knesset, with 15 seats in the 120-seat house. A recent poll showed the party could snap up two more seats if elections were held today.
The foreign minister has frequently found himself in the headlines for his sometimes undiplomatic language, and is also facing the prospect of being indicted for corruption.