French police fined a woman for wearing a full-face Islamic veil, the first reported enforcement of a ban on the garment on the day it came into effect.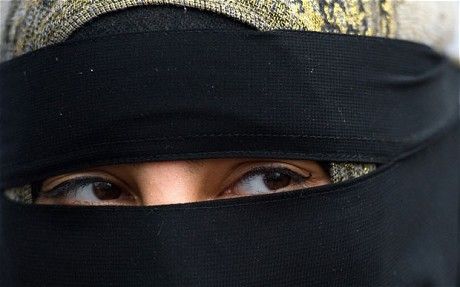 The young woman, born in 1983, was fined 150 euros (£133) "without incident" in a shopping centre in Mureaux, northwest of Paris, early Monday evening, the source said, without elaborating on exactly what she was wearing.
France on Monday became the first country in Europe to apply a ban on the wearing of full-face coverings, including the Islamic niqab. At least two niqab-wearing women were arrested the same day for protesting the ban.
French police have voiced fears the law will be impossible to enforce, since they have not been empowered to use force to remove head coverings, and could face resistance in already tense immigrant districts.
But Interior Minister Claude Gueant insisted on Monday that the ban would be fully applied, in the name of "secularism and equality between men and women ... two principles upon which we cannot compromise."
"The police and the gendarmerie are there to apply the law and they will apply the law," he said.
The law came into effect at an already fraught moment in relations between the state and France's Muslim minority, with Sarkozy accused of stigmatising Islam to win back votes from a resurgent far right.
French officials estimate that only around 2,000 women, from a total Muslim population estimated at between four and six million, wear the full-face veils that are traditional in parts of the Arab world and South Asia.
Many Muslims and rights activists say the right-wing president is targeting one of France's most vulnerable groups to signal to anti-immigration voters that he shares their fear that Islam is a threat to French culture.