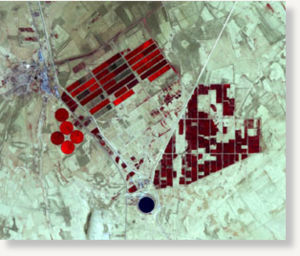 Libya warned on Sunday that NATO-led air strikes could cause a "human and environmental disaster" if they damaged the country's massive Great Man-Made River (GMMR) project.
Built at a cost of 33 billion dollars, the GMMR extracts water from deep beneath the Sahara desert at a depth of between 500 and 800 metres (1,600 to 2,500 feet), purifies it and transports it to the coastal cities of the north where most of the population is concentrated.
Engineer and project manager Abdelmajid Gahoud told foreign journalists in the ultra-modern control centre on the outskirts of Tripoli, that a "human and environmental disaster" was on the cards if the GMMR was hit.
He said three pipelines, one for gas, one for oil and another for water, run underground parallel to the 400-kilometre-long (248 miles) road from the eastern city of Benghazi to Moamer Kadhafi's home town of Sirte, through the area between Ajdabiya and Sirte where there have been many coalition air raids.
"If one of the pipelines is hit, the others are affected as well, which could mean a humanitarian catastrophe," Gahoud said.
"If part of the infrastructure is damaged, the whole thing is affected and the massive escape of water could cause a catastrophe," he added, leaving 4.5 million thirsty Libyans deprived of drinking water.
Conceived in the 1960s and launched in the 1980s by Kadhafi as part of a plan to make Libya self-sufficient in food, the GMMR provides 70 percent of the population with water for drinking and irrigation.
A total of 4,000 kilometres of pipeline were laid at a depth of two to three metres, he said, crossing the country from south to north and making the GMMR the largest and most expensive irrigation project in history.
It is designed to pump water from Libya's vast, underground Nubian Sandstone Aquifer System in the south to populated coastal areas in the north where most of the country's six million inhabitants live and work.