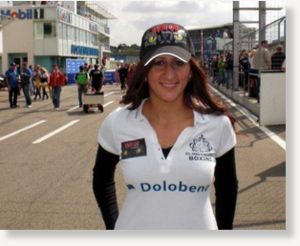 Top female boxer Rola El-Halabi, who is recovering in hospital after being gunned down by her step-father before a world title fight, may never return to the ring, her promoter said on Sunday.
El-Halabi, 26, was shot her in the hands, feet and knees in her dressing room as she prepared to fight for the WIBF world lightweight title in Karlshorst, Berlin, on Friday night.
Two security guards were also shot during the attack, but are recovering in hospital having also undergone surgery.
"Her operation went smoothly, but the shots were intended to end her career and it seems almost certain that that will happen," her promoter Malte Mueller-Michaelis told SID, an AFP subsidiary.
El-Halabi's 44-year-old attacker was overpowered by police at the boxing hall and arrested shortly after the shooting, while nearly 600 spectators were quickly evacuated.
"I was with my coach and manager in the changing room when Dad rushed into the room, threatening us with a gun and shouted 'All out!," El-Halabi told Sunday's edition of German daily
Bild
.
"Then he shot me in the hand from three feet away, I cried and cried, begging him to put the gun away.
"He threatened to shoot himself, but he was too cowardly.
"He took his time aiming and and shot me in the knee, then in my right foot."
The background of the attack stems from El-Halabi's decision in January to stop working with her step-father as her manager.
El-Halabi, who is undefeated from 11 fights with six knock-outs and has held two world titles in her career, had been due to face Bosnian Irma Adler as part of her comeback after a break from boxing.