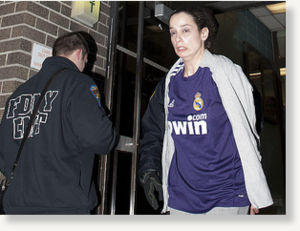 A Brooklyn high school teacher was held Saturday on $100,000 bail after prosecutors revealed she had threatened a machine-gun rampage that would be "Columbine all over again."
A handcuffed Sabrina Milo, 34, kept her head down during her arraignment in Brooklyn Criminal Court.
According to prosecutors, the art teacher was weeping inside the teachers lounge at Fort Hamilton High School last Tuesday when she delivered the threat.
Three teachers heard her mention bringing a machine gun to school beneath a trench coat before she warned it would be "Columbine all over again," prosecutors said.
Defense attorney Andrew Stoll asked for Milo's release without bail, insisting she was no threat to anyone.
"She does not own any firearms," Stoll said. "She needs to be medicated."
Stoll insisted the charges of making terroristic threats were "completely unwarranted." Milo faces up to five years in prison if convicted.
The suspect's husband, Lee Anderson, sat stoically in the rear of the courtroom during the hearing.
Milo, after the judge set bail, was also ordered to stay away from the high school and the teacher who made the complaint against her. She was also ordered to surrender any and all firearms.