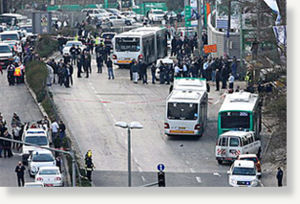 The package bomb that exploded at a busy Jerusalem bus stop Wednesday, killing a 60-year-old British woman and wounding 39, was exceptional in more ways than one. The holy city hasn't had a terrorist attacks since 2008, so the homemade explosive sent a charge through a sprawling metropolis that, in a matter of minutes, became clogged with impromptu checkpoints and rush hour traffic funneling into single lanes to pass them.
But the nature of the strike was exceptional, too. Police say only about four pounds of explosives were tucked into a bag leaning against a telephone pole - suspiciously enough that the owner of a nearby kiosk phoned it in moments before it exploded.
David Amoyal named his stand, "A Blast of a Kiosk" after it was all but destroyed in 1994 by a Palestinian wearing a suicide vest. It's the kind of detonation Israelis learned to expect during the first years of the 21st Century, when suicide attacks became almost routine.
But no one has blown himself up in Jerusalem since 2004. So effective has prevention been at thwarting serious strikes that three of the city's four most recent "terror attacks" involved vehicles: two were bulldozers taken on rampages, the third a private car steered into a sidewalk thick with soldiers.
No organization claimed responsibility for Wednesday's attack, which appeared to be significant in itself.
Israeli security officials said the bomb appeared to be the work of a small group, perhaps local self-starters able to operate below the radar.
Comment:
Or it was a "crime of opportunity" to act as an additional justification for
another
large-scale Israeli military operation in Gaza. Not that Zionists require any justifications, mind you.
"We have had hundreds of preventive successes in the last six or seven years, stopping attempts to launch attacks in Israel, and especially Jerusalem," a senior Israeli intelligence official tells
TIME
. "The aim to strike Jerusalem is still there, vividly so. The problem is the capability."
A major reason: The leadership of the Palestinian government in the West Bank vigorously opposes terror, and cooperates closely with Israel to prevent attacks. Both Palestinian Authority president Mahmoud Abbas and prime minister Salam Fayyad issued condemnations shortly after the mid-afternoon explosion, and Israeli officials said Palestinian security was energetically engaged in the search for those who carried it out.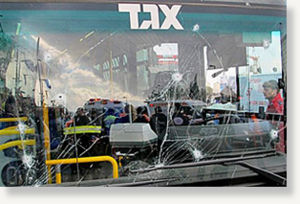 The other major Palestinian party, Hamas, however, is also known as the Islamic Resistance Movement. It remains committed to violent resistance against Israel, and last weekend launched some 50 mortars into Israel from the Gaza Strip, the coastal enclave where it governs. The Israeli military responded with attacks from the air, and with that Hamas leaders opted to restore the informal cease-fire in effect since Israel invaded Gaza in December 2008, killing 1,500 people.
"Ah, mortars?" Hamas spokesman Taher al-Nunu told
TIME
on Monday, across a restaurant booth in Gaza City, when asked what precipitated the barrage. "Look, it was two years since the last war. Last month we had 17 martyrs" - the term that Hamas uses for fatalities. He explains that the mass mortar launch into Israel was an overdue "reaction," but adds that "We as a government spoke today and yesterday to all the military factions" and together agreed to resume the informal ceasefire in effect since January 2009. "Meaning there is no more launching of mortars after today," al-Nunu says.
Not all factions held their fire, however. The day after al-Nunu's statement, the military wing of the Islamic Jihad party was locked into an escalating spiral with the Israel Defense Forces. The militants launched Grad rockets toward the cities of Beersheva and Ashdod, population centers rather than the farm fields that often absorb indirect fire out of Gaza. No deaths were reported, but Palestinian media quoted Islamic Jihad as saying the launches heralded a new era of targeting cities. The strikes came after an IDF drone launched a missile at a car carrying Islamic Jihad militants, killing all four. And in a separate incident, an IDF mortar landed in a yard, killing four from one family, including two children.
Comment:
Funny how with all the manipulations one simple fact was conveniently "forgotten", that it was Israel, which in fact
created Hamas
.
According to Zeev Sternell, historian at the Hebrew University of Jerusalem, "Israel thought that it was a smart ploy to push the Islamists against the Palestinian Liberation Organisation (PLO)"...

Ahmed Yassin, the spiritual leader of the Islamist movement in Palestine, returning from Cairo in the seventies, established an Islamic charity association. Prime Minister Golda Meir, saw this as a an opportunity to counterbalance the rise of Arafat's Fatah movement. .According to the Israeli weekly Koteret Rashit (October 1987), "The Islamic associations as well as the university had been supported and encouraged by the Israeli military authority" in charge of the (civilian) administration of the West Bank and Gaza. "They [the Islamic associations and the university] were authorized to receive money payments from abroad."...

Quite unexpectedly, Prime Minister Netanyahu ordered Sheik Ahmed Yassin to be released from prison ("on humanitarian grounds") where he was serving a life sentence. Meanwhile, Netanyahu, together with President Bill Clinton, was putting pressure on Arafat to control the Hamas. In fact, Netanyahu knew that he could rely, once more, on the Islamists to sabotage the Oslo accords. Worse still: after having expelled Yassin to Jordan, Prime Minister Netanyahu allowed him to return to Gaza, where he was welcomed triumphantly as a hero in October 1997....

The Hamas had built its strength through its various acts of sabotage of the peace process, in a way which was compatible with the interests of the Israeli government. In turn, the latter sought in a number of ways, to prevent the application of the Oslo accords. In other words, Hamas was fulfilling the functions for which it was originally created: to prevent the creation of a Palestinian State. And in this regard, Hamas and Ariel Sharon, see eye to eye; they are exactly on the same wave length.
Israel apologized for the mistake, and in a gesture of political as well as humanitarian significance, offered to bring an eight-year-old boy to an Israeli hospital for treatment of his wounds. Hamas gave permission for the youth to travel through no-man's land at the north of the Gaza Strip and into Israel through the extraordinarily elaborate Israeli security terminal that is the Erez Crossing.
Israeli officials say they take Islamic Jihad's threat seriously. "When the Israelis make a mistake and kill a family, or we target a senior Islamic Jihad terrorist, one million Israelis will be under the threat of rocket attack," a senior Israeli intelligence official tells
TIME
. "This is something we cannot accept."
Israeli politicians were also calling for action - first, for stronger military reaction to the missiles out of Gaza. Then, more loudly, for a tough response to the Jerusalem blast, even though security officials said there was no indication who was responsible for it.
At Ben Gurion Airport, where he was preparing to leave for Moscow, prime minister Benjamin Netanyahu seemed to acknowledge the danger of events spiraling out of control. No stranger to tough talk, the prime minister spoke of an "iron will" but in measured tones.
"We will act forcefully, responsibly and wisely," Netanyahu said, "to preserve the calm and security that have prevailed here over the past two years."