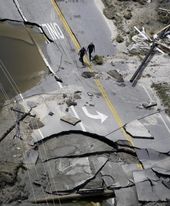 FIRST it was a cyclone, then flooding, and then came the earthquake.
At 4.08pm yesterday a magnitude-4 earthquake struck about 30km off the coast of Innisfail, in far north Queensland, an area already hard hit by Cyclone Yasi last month and inundated by torrential monsoon rains.
Locals reported the quake to Geosciences Australia from Innisfail, Gordonvale and even Cairns, 70km away from its epicentre.
It was insufficient to cause a tsunami and there were no early reports of damage but locals took to Twitter to bemoan the recent trifecta of natural disasters. Geoscience Australia seismologist David Jepsen said it would have produced "a bit of a shake" and "some rattling of windows" in the Innisfail area.
He ruled out any connection to recent earthquakes in Christchurch or Japan, saying those incidents were too far away to generate a far north Queensland quake.
"When an earthquake does rupture the Earth's surface, normally the surrounding area of the plate would adjust before that," Dr Jepsen said. "These earthquakes are too far apart to trigger off each other."
Dr Jepsen highlighted the constant seismological activity on Earth as the tectonic plates moved position. "They are happening all the time," he said.
"This is just part of the complex interactions between the plates and on the plates."
Local councillor Bill Horsford said he had not felt the quake but past earthquakes had been "very minor".
"I've felt them before but it has been a long time," he said.
Cyclone Yasi crossed the coast near Mission Beach on February 3, devastating the small towns of Tully Heads and Hull Head and severely damaging scores of homes in Tully and Mission Beach.
Last week, the region recorded up to 778mm of rain, causing flash-flooding and the further inundation of about a dozen homes.