The unusually high number of aftershocks following Japan's strongest ever earthquake last Friday has caused concern among geophysicists that it may actually be a chain of separate quakes.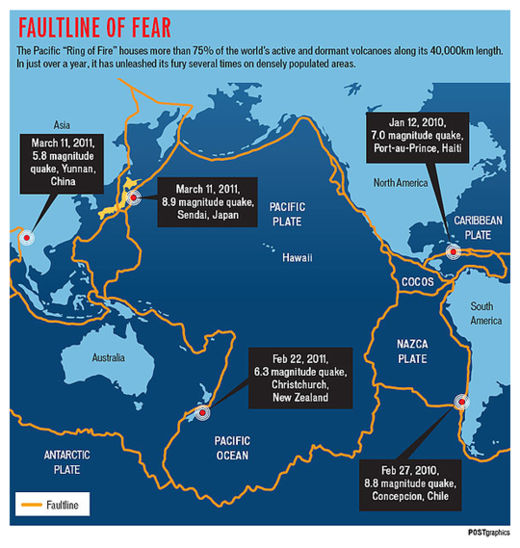 Michio Hashizume, a Japanese geology expert working with Chulalongkorn University's Faculty of Science, said his contemporaries in Japan are wondering if the string of tremors felt around the county since Friday's 9.0-magnitude are actually aftershocks.
"We are questioning if they are really aftershocks, because in theory they should happen close to the epicentre, but this time, [some of] the [following] earthquakes have happened far from the epicentre," Mr Hashizume said.
"We are thinking the 9.0 earthquake may have triggered a chain of earthquakes. If so, we expect more earthquakes, possibly as strong as magnitude 7, within the next three days."
The geologists are concerned about the possibility of another big earthquake soon, which could create another tsunami, he said.
There has been a 6.7-magnitude quake in Nagano, a 5.7 in Chiba and a 7.5 in Iwate, all of which are hundreds of kilometres from Sendai, the prefecture closest to the offshore epicentre of last week's devastating megaquake.
Mr Hashizume said even though Japan was well prepared for earthquakes, the country was still taken by surprise by the tremor, the strongest in recorded Japanese history.
"We have a good system against quakes and tsunamis but this time the preventive measures completely failed. We must revise our knowledge," he said.
Japan sits on the Pacific Ring of Fire, a fault line strewn with hundreds of active volcanoes. The country is believed to have the world's best system for living safely with the threat of related natural disasters.
Thanawat Jarupongsakul, chief of Chulalongkorn University's Unit for Disaster and Land Information Studies, said Thailand did not sit on any major fault lines and had never experienced a tremor of more than 5.9 on the Richter scale.