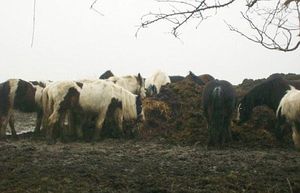 A town is being overrun by a pack of 250 wild horses abandoned by gypsies who can't afford to feed them.
Five of the horses have been killed when they were hit by cars and others are starving because they are not being fed.
RSPCA inspectors were today on the scene at Bridgend, South Wales, after calls from worried animal lovers.
The horses are believed to belong to gypsy families who have moved on from the area and were unable to pay for their feed and upkeep.
Hundreds of people have posted messages on a Facebook page set up by the Society for the Welfare of Horses and Ponies.
Chairwoman Jenny Macgregor said: 'The horses are everywhere, we've had reports of them getting onto the M4 motorway and being killed.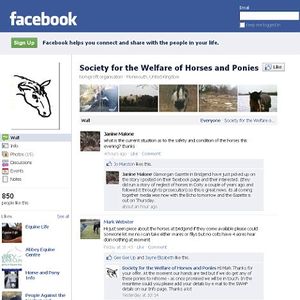 'We have found at least five or six dead and they are dying of starvation and lung infections.
'The situation is out of control.'
Residents in the town say they have been woken up by small groups of horses galloping past their homes in the middle of the night.
'Animal lover Pat Jones said: 'They have apparently been wandering around for the last few days.
One of my friends has spent the morning trying to keep them from running into the road.
'There are around 250, but they have split up into groups and they are absolutely starving.
'I've heard that at least five or six have been found dead. It's really sad.'
An RSPCA spokesman said: 'We are assessing the situation.'