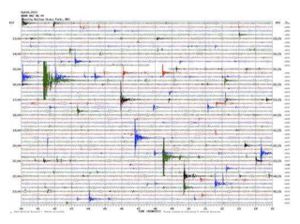 Greenbrier - Residents of the small north-central Arkansas town of Greenbrier said Monday they're unsettled by the fact that they never know if or when the next earthquake is going to strike, especially after being woken up by the largest quake to hit the state in decades.
The U.S. Geological Survey recorded the quake at 11 p.m. Sunday, centered beneath the ground about four miles northeast of Greenbrier. It was the largest of more than 800 quakes to strike the area since September in what is now being called the Guy-Greenbrier earthquake swarm.
"You don't know what to expect. It's unnerving," said Corinne Tarkington, an employee at a local flower and gift shop. "I woke up last night to the sound of my house shaking."
What woke Tarkington was a magnitude 4.7 earthquake -
the largest to hit the state in 35 years.
No injuries or major damage have been reported, but the escalation in the severity of quakes in and around the small north-central Arkansas town has many residents on edge. Some said they're seeing gradual damage to their homes, such as cracks in walls and driveways.
"We probably had 40 to 50 calls last night," Greenbrier police Sgt. Rick Woody said, noting that the tone of the calls had changed. After previous quakes, most callers simply wanted to find out if a loud noise they'd heard was an earthquake, he said.
"The fear had calmed down until last night," Woody said Monday. "People's biggest concerns (now) are whether or not these earthquakes are going to get any bigger."
Scott Ausbrooks, seismologist for the Arkansas Geological Survey, said Sunday's record quake is at the "max end" of what scientists expect to happen, basing that judgment on this swarm and others in the past. He said it's possible that a quake ranging from magnitude 5.0 to 5.5 could occur, but anything greater than that is highly unlikely.
Ausbrooks said he plans to hold a town hall meeting in Greenbrier next month to address people's concerns about the area's seismic activity.
"This quake actually scared folks," he said. "It lasted longer than a lot of the others did."
Ausbrooks said scientists continue to study whether there is a connection between the earthquakes and local injection wells. Those are sites used by the natural gas industry to dispose of waste water by pumping it into the ground when it can no longer be used by natural-gas drillers for hydraulic fracturing.
Fracturing, or "fracking," involves injecting pressurized water to create fractures deep in the ground to help free the gas. The Greenbrier area is in the region where wells are being drilled into the Fayetteville Shale formation to get the gas it contains.
In Greenbrier, many residents are starting to notice gradual damage. Tarkington said her house has started to show cracks in ceilings and walls.
"You can see the wear and tear on our houses," she said. "I wish they'd go away."
Taylor Farrell, 29, a Greenbrier resident and employee at a local flea market, said a large crack formed in her driveway several months ago, and as the earthquakes continue, the crack has spread into her garage.
She said she and her husband had removed everything from the walls of their house, including family photos and television sets, because many photos had fallen in recent quakes.
"Other than that, there's really not much more you can do," she said. "It's Mother Earth. It's going to do what it's going to do. All we can do is wait for the big one and hope and pray it doesn't happen."