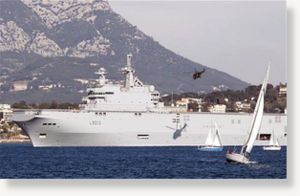 As Russia pushes ahead with its biggest rearmament programme since the fall of the Soviet Union, its decision to buy two amphibious Mistral-class assault ships from France is causing alarm from Washington to Tokyo.
The £856 million pound two ship deal will allow Russia to later build a further two such vessels at its own shipyards, giving it four hi-tech assault ships in total. The vessels can carry up to 16 helicopters, four landing craft, 13 battle tanks, around another 100 vehicles and a 450-strong force. The ships are also equipped with their own on-board hospitals.
It is the biggest and most controversial sale of foreign arms to Russia by a Western country since the Second World War.
The United States, Georgia, Lithuania, Latvia and Estonia have all raised concerns about the deal, but Paris has brushed those aside saying the time has come to trust the Kremlin.
Georgia, which fought and lost a short sharp war with Moscow in 2008, is particularly nervous.
Its anxiety stems from the fact that the ship is a game-changer for Russia, allowing it to swiftly land a formidable assault force on foreign soil.
Those fears have been fanned by the head of the Russian navy Admiral Vladimir Vysotsky who was quoted as saying that the ship would have allowed Russia to crush the Georgian army much more quickly than it did in 2008 during the countries' five-day war. "Everything that we did in the space of 26 hours at the time, this ship will do within 40 minutes," he said.
Tokyo, which is locked in a tense territorial dispute with Moscow, is also thought to be concerned as the Kremlin has indicated that one of the ships may be deployed in its Pacific Fleet.