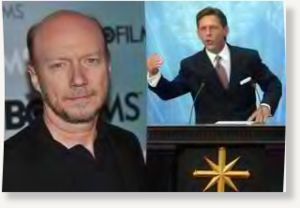 The Church of Scientology reacted to today's
New Yorker article
claiming that the FBI is investigating it for suspected people trafficking with quiet restraint.
Only joking! It's senior staff, who say they are unaware of any investigation and deny all allegations of wrongdoing, have instead hit the gilded roofs of their many properties. This morning, they
issued a statement
branding the Oscar-winning screenwriter and director Paul Haggis (left), the source of much of the 25,000-word piece, a "disaffected former member" making "sensationalist" claims.
This evening, meanwhile, their spokesman Tommy Davis issued a second statement. This one drew attention to a
piece on the affair
by AOL security correspondent Allan Lengel. In an easily-overlooked line, buried half way down, Mr Lengell claims that his own FBI sources have informed him that no human-trafficking charges are likely to be filed against the Church, or its leader David Miscavige (right).
A copy of the Davis statement is below. Either the Church of Scientology has discovered a piece of killer evidence here, which will discredit the entire
New Yorker
article, or... it hasn't. I guess that, some day, the issue will eventually mulled over by a court.
I've no idea how Mr Lengel will react to being thrown to the center of this increasingly ugly dispute, but you can read his actual piece
here
.
The Independent
's original news story (published before Davis issued his second statement) is
here
. And if you have 45 minutes to spare, I can heartily recommend the original New Yorker article, published (gloriously free from the constraints of English libel law)
here
.
Statement
The New Yorker press release and Lawrence Wright's profile on Paul Haggis, "Paul Haggis vs. the Church of Scientology," released Monday, reported on an alleged federal investigation. The New Yorker was well aware the Church knew nothing of the investigation but had refuted the same claims based on a case already thrown out by a Federal Court Judge.

Nonetheless, The New Yorker irresponsibly used the same sources who were discredited in the dismissed case to claim an "investigation" so as to garner headlines for an otherwise stale article containing nothing but rehashed unfounded allegations.

Allan Lengel, a former Washington Post reporter who writes for AOL News on federal law enforcement matters, filed this late today in a breaking story on Wright's allegations: "The author cites two sources in the FBI who 'assured me that the case remains open.' However, a federal law enforcement source told AOL News the investigation has fallen short and no criminal charges are expected to be filed." Click here for the article:

Obviously, this contradicts what Wright wrote in The New Yorker. If you published Wright's account, this contradiction should be made known to your viewers and/or readers.

Tommy Davis

Church of Scientology International