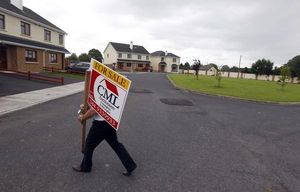 A survey from property website Daft.ie has found that asking prices for homes fell by 14% last year, with prices falling by 5% in the final three months of the year.
Daft.ie says prices have now fallen by 40% from their peak, with the average price now just below €220,000.
During 2010, asking prices in Dublin fell 14% on average, compared to a fall of 15% outside major cities. Prices in Galway were 13% lower than a year before, after prices fell sharply in the final quarter of the year.
In Cork, Limerick and Waterford, prices fell by between 10% and 12% over the course of the year. Elsewhere, the extent of price falls varied from less than 10% in Mayo to 20% or more in Wexford and Kilkenny.
'Despite another year of price falls, the market does not yet look in balance,' said Daft.ie economist Ronan Lyons. He said the number of properties for sale was still very high, at almost 60,000, while on the demand side, tight credit and expectations of higher taxes and interest rates were affecting potential buyers.
The Daft.ie figures are broadly in line with those released by rival site MyHome.ie yesterday.