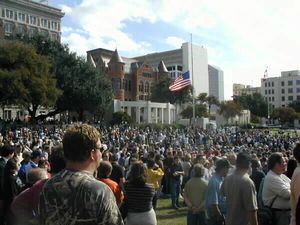 The memory of what happened in downtown Dallas 47 years ago today is still fresh for John Todd.
Now he wants to pass those memories on.
"When I asked my grandkids [to come], they immediately said yes," Todd said this morning near the spot where President John F. Kennedy was slain by a sniper's bullet. "So here we are."
The Todds had plenty of company: Dozens of people - tourists and locals, young and old - visited the site where the president's motorcade passed the Texas School Book Depository.
With the two elementary-school-age children in tow, Todd walked along Elm Street, pointing out historic landmarks surrounding the scene of the assassination. Todd still remembers where he was and what he was doing Nov. 22, 1963.
"I was working in a lady's house when she come in and told me President Kennedy had been shot," Todd said. "I said, 'Was that a joke,' and she said it was no joke and turned on the TV."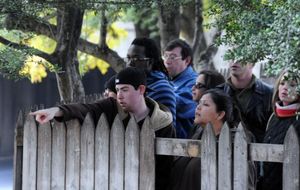 Nearby, at the edge of Dealey Plaza, Ron Rice stood beside his memorial sign and the American flags he's brought to the spot every year since coming to Dallas in 1993.
When he began posting his signs and his flags, he said, the plaza was covered with them. But today, he's one of the few who carry on the tradition.
"As long as I'm alive, I'm going to keep making these memorial flags and bringing them down here," said Rice, whose sign reads, "JFK we do remember and we will not forget."
Amanda Shallcross of Denver and her mother were among the out-of-towners to visit the site on the anniversary.
"There are still a lot of questions about what really went down that day and who is responsible for it," Shallcross said. "So that's what was sort of the draw."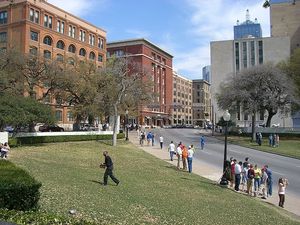 Her mother, Irene, was in grade school when the assassination occurred but still remembers hearing the news from her principal in Shreveport, La.
"I remember everything," she said. "It was the most shocking thing that had ever happened to a lot of people."
Tim Leach works in Dallas, but today was his first trip to Dealey Plaza.
"I drive by here every working day of my life and have never stopped," he said, looking down as cars drove past on Elm Street. "It's a sense of perspective just to see."
Madison Todd came away with some new perspective of her own, thanks to her grandfather.
"It's something really huge that happened in Dallas, and it's an important fact," she said.