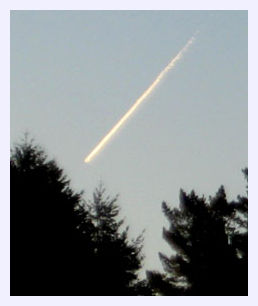 What's that streaking across Southland skies? Is it a meteor, is it a plane?
Probably a meteor, according to Southland Astronomical Society secretary Bob Evans.
Probably a plane, Southland Astronomical Society observatory director Steve Butler said yesterday.
Otahu Flats dairy farmers Chris and Valda Johnstone sent this photo to
The Southland Times
last night, saying they watched a long vapour trail slowly descend towards Earth on about a 45-degree angle just before 5pm.
"We were trying to work out what it was. The first impression I had was it was a meteorite or some piece of space junk, or an aeroplane going away from us," Mr Johnstone said.
"But it was slow. I have never seen anything like it before."
His wife Valda said she had also never seen anything like it before, and she was a stargazer.
"I love to sit out at night and watch the sky."
Mr Butler, when emailed the photo last night, said the Johnstones' comment that it was slowly falling towards the north suggested it was a high-flying aircraft rather than a meteor, which travelled quite quickly across the sky.
There were two trails, suggesting jet contrails, with Mr Butler saying it could be a flight from Antarctica to Christchurch or a commercial flight from Chile to Sydney because they sometimes overflew Invercargill.
However, Mr Evans said he believed it was a meteor, or a rock "fireball" that had travelled through space.
"It's obviously broken into two pieces and as it's going through the atmosphere it's leaving an incandescent trail." Carter Observatory staff in Wellington could not be contacted for their thoughts last night.
In January last year,
The Southland Times
reported people seeing striking patterns in the skies over Southland.
On that occasion, experts agreed it was a commercial airliner's vapour trails about 10,000m high, understood to have originated from Qantas Boeing 747-400 planes flying regular non-stop return routes between South America and Sydney.
But this mystery is yet to be solved. Watch this space ...