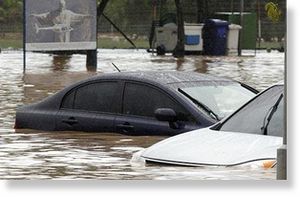 The heaviest rains in decades caused floods and landslides that killed at least 95 people in Rio de Janeiro state.
Mudslides swept away shacks in Rio's hillside slums, turning the city's main lake and the sea brown during the round-the-clock heavy rains.
Morning flights in and out of the city of six million people - which will host the 2014 soccer World Cup and the 2016 Olympics - were canceled or seriously delayed and many neighborhoods were cut off from power and transport.
Most victims died in more than 180 mudslides, authorities said. A spokesman for Rio's fire service said at least 40 injured people were taken to hospitals as the search went on for others reported missing.
"The situation is critical. Roads are flooded and blocked," Mayor Eduardo Paes said. "We recommend people stay at home."
Paes told reporters at least 26 people had died in the Rio metropolitan area. The fire service said a total of 89 people were killed across the state.
The mayor said 10,000 houses remained at risk, mostly in the slums where about a fifth of Rio's people live, often in precarious shacks that are highly vulnerable to heavy rains.
The downpour, which began late on Monday, is the worst Rio has recorded in 30 years.
The southern hemisphere summer has been particularly hot and rainy in Rio this year.
In January, at least 76 people died in flooding and mudslides in Brazil's most-populous states of Rio, Sao Paulo and Minas Gerais. Then, dozens of people were killed in a landslide at a beach resort between Rio and the port city of Santos.
President Luiz Inacio Lula da Silva canceled an event on Tuesday where he was due to inaugurate public works projects.
"
No one could cope with the rain that we are seeing, which is the worst in Rio's history
," he said.