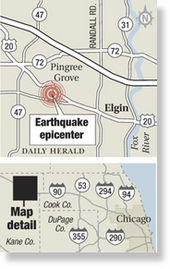 "We definitely were jolted out of bed" recalls Bob Gehrke who's property sits adjacent to the epicenter of the quake. My daughter Carolyn said it felt as if the floor was moving.
To some, it sounded like a train derailing, a snowplow taking out a car, a plane crash, a sonic boom.
To dogs, it was clearly something to panic about.
But the U.S. Geological Survey said what woke people well before dawn Wednesday was a mild, 3.8-magnitude earthquake whose epicenter was about three miles beneath a farm field a short distance south of Pingree Grove, near Route 20 and Switzer Road in western Kane County.
Geologists said the quake was caused by a previously unknown fault line that has not generated any shocks since they started keeping track 150 years ago.
"It teaches us to expect the unexpected," said Philip Carpenter, a geologist at Northern Illinois University. "I never would have expected an earthquake in this area."
It started rumbling at 3:59 a.m. Wednesday and lasted just seven seconds.
The quake is not believed to have caused any serious damage beyond items shaken off shelves. It was felt throughout the suburbs and well beyond.
The location of the earthquake came as a surprise to Elgin Parks and Recreation Director Randy Reopelle, who learned Wednesday the quake that roused him and his wife was centered beneath a city-owned, 224-acre parcel that is slated for a regional park.
"I guess we'll have to deal with it," Reopelle said of the newly discovered fault line. "It can't be any deeper or wider than the creeks that are out there."
Carpenter said geologists are monitoring seismic activity in the area but that it is not typical for northern Illinois quakes to have aftershocks.
The big earthquake that hit Haiti on Jan. 12 registered 7.0 on the Richter scale, releasing about 30,000 times as much energy as the quake felt Wednesday morning.
To compare a 3.8 quake to others, multiply each full point on the Richter scale by 31, according to the Geological Survey.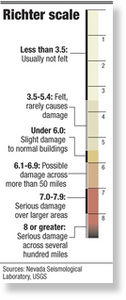 For northern Illinois, Wednesday's earthquake was more of a conversation starter than a disaster.
Kountry Kennels Pet Resort and Spa sits about 50 yards from the quake's epicenter.
Just before 4 a.m., kennel manager Jerid Schmidt was preparing meals for the 60 to 80 dogs staying there. They were due to eat at 5 a.m.
Two minutes before the earthquake struck, the dogs started barking, whining and howling, he said.
Schmidt said he knew something was wrong.
"When I first heard the dogs barking, I thought somebody else was in the building, so I looked around for another person and I didn't see anybody," he said. "And then the earthquake hit. You could hear the windows shaking. It was like someone was pounding on them."
At that point, the dogs got even more agitated. A few even jumped on the front door in an attempt to escape. Schmidt said he spent a few minutes calming the dogs down.
During a typical thunderstorm, only a few of the dogs get spooked, he said. But they were all riled up during the earthquake.
"Everyone seemed to know that the earthquake was coming," he said.
Pingree Grove Village President Wyman "Clint" Carey said the earthquake rattled his house and woke him out of a sound sleep.
When it hit, he initially thought it was a train derailment, but he didn't see anything of the sort when he looked out the window.
He soon figured out what had happened after going online and talking to other residents who felt the same thing.
As far as Carey knows, there has been no reported damage in the village. He says he is more concerned with the 12 inches of snow.
He said he also feels uncomfortable about the fresh media attention his town is now getting.
"I feel weird about it after what happened in Haiti," he said as television crews pulled up in front of his house. "None of our houses got knocked down. After this quick news thing goes away ... maybe they'll pick up the phone and make another donation (to Haiti)."
Bob Gehrke's property sits adjacent to the epicenter of the quake.
"We definitely were jolted out of bed," Gehrke said. "My daughter Carolyn said it felt as if the floor was moving. I originally thought that a truck had run off the road, but then my wife, Beth, and I put two and two together and figured it was a quake. It really sounded as if a lightning bolt had just hit nearby."
Diane Krachmiletz, a resident of Pingree Grove, said before the quake her three dogs jumped off the bed and kept whining. She thought they wanted to go outside.
She said they're always asleep in the middle of the night, but two minutes before it hit, the dogs began barking at nothing in particular.
"I thought a semi hit the house," she said.
Custodian Ray Trevino got to Country Trails Elementary School in Elgin early Wednesday to handle the snow.
"I was snow-blowing at 4 a.m." Trevino said. "I did not feel it at all, but the quake set the alarm off and the police came." The school is less than a mile from what is being reported as the center of the quake.
Linda Hildreth had an altogether different experience.
"I thought that it was a snowplow hitting my car, but then there was no crunch," the DeKalb resident said. "It definitely woke me, and the house shook for nearly 30 seconds afterward."
At Country Donuts in Elgin, two miles from the epicenter, the quake is all people were talking about.
Owner Jennifer Salter, a Plato resident, said 500 patrons came through in the morning and all had been buzzing about the quake.
"It's something to talk about besides the weather," Salter said. "That's a nice change for February."
For fun, she's even offered an earthquake special Wednesday. She got her inspiration from several drive-through customers who jokingly asked whether one existed.
"Mention an earthquake and get a free doughnut," Salter said.
Brett Lind lives in Plato Center, between Elgin and Sycamore.
"I woke up to my bed shaking for several seconds around 4 a.m., while the items on my night stand continued to rattle," he said. "I laid there in bed wondering what it could have been. An earthquake seemed unlikely but did cross my mind. I woke up at 6 a.m. to watch the news to find that it was an earthquake. The Midwest is unpredictable!"
The earthquake didn't faze everyone.
"I didn't think much of it," said Lynn Harris of Hampshire. "I wanted a snow day today but instead we had an earthquake. It definitely woke me."
Staff writers Jameel Naqvi and Lee Filas contributed to this report.