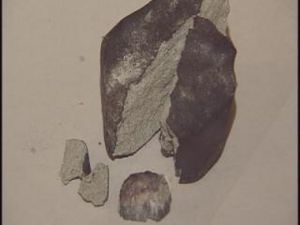 Lorton -- A
meteorite
, the size of a mango, punched through the ceiling of the Williamsburg Square Family Practice Office in Lorton.
Dr. Marc Gullani says, "Literally an explosion went off."
Dr. Frank Ciampi tells 9NEWS NOW he thought the book shelves fell down.
He says, "It came from the roof, through the fire wall through the ceiling and hit the ground right here."
The meteorite came down with such force, it pushed ceiling tile underneath the carpet and cut into the concrete of the exam room.
9NEWS NOW went to the experts at the Smithsonian Museum of Natural History, with the extraterrestrial particles inside a box. For Meteorite Scientists Linda Welzenbach and Dr. Cory Corrigan, it was a special moment.
Dr. Welzenbach says, "As I recall, this will be the fourth fall in Virginia."
He adds, "It's got a fusion crust. This is what's happened when it's passed the atmosphere, passing very quickly through the atmosphere."
A committee of planetary scientists are expected to officially recognize meterorite in Lorton.