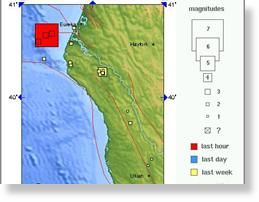 The U.S. Geological Survey says a 6.5 magnitude earthquake has struck off the coast of Northern California.
The USGS says the quake hit just before 4:30 p.m. Saturday about 27 miles from Eureka, a coastal city that's 110 miles south of the Oregon border.
The National Oceanic and Atmospheric Administration says there is no threat of the quake generating a tsunami.
USGS geophysicist Richard Buckmaster says the quake was felt as far south as Capitola in central California, and as far north as Roseburg in central Oregon.
Postings on Twitter indicate there's been minor damage in some areas with power out in others.
According to 'oldshake,' "kids and i rocked and rolled. book shelves fell down. we are all fine here. exciting 6.5 quake!"
'TrinidadTweets' says, "Trinidad power out, joilting and rolling strongly."
"Lots of broken glass at Booklegger. We have bookcases down in our store and broken plaster, but otherwise OK. 6.5 mag quake," according to 'amyeureka.'
Four aftershocks followed over the next 40 minutes, the biggest registering at a magnitude of 3.8.
The San Francisco Bay area was struck by two light earthquakes on Thursday and Friday.