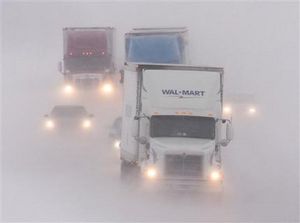 Steadily falling snow blanketed the Midwest on Thursday, part of a vicious cold snap engulfing much of the nation, and a tractor-trailer spun out of control on snow-slick roads in Ohio, killing four people and injuring seven.
The tractor-trailer jackknifed on Interstate 70, crossed the highway median and swerved into oncoming traffic, colliding with a small bus transporting adult disabled passengers, the Ohio Highway Patrol said.
The driver of the 17-passenger bus was among those killed, said Sgt. Raymond Durant. One person was in critical condition and six others were injured and taken to hospitals, he said. Six of the injured were on the bus, and the tractor-trailer driver was also injured.
Durant said the bus was carrying 11 people at the time of the crash.
The accident occurred near Springfield in southwest Ohio, where a storm that stretched as far west as the Dakotas had dumped nearly 5 inches of snow by early evening, according to the National Weather Service.
With the cold and icy, snow-covered roads responsible for at least 15 deaths this year, officials throughout the U.S. told people to stay home if they could.
Snowfall was heaviest in Minnesota and parts of South Dakota, where blowing winds piled up drifts too big for snowplow drivers to clear. Some parts of southwestern Minnesota received 8.5 inches of snow by Thursday morning.
In Illinois, six snowplows were involved in accidents, most when other vehicles rear-ended the trucks. By Friday morning, parts of Wisconsin could see up to 12 inches of snow.
Snowflakes fell as far south as Alabama and Georgia on Thursday.
Frostbite-inducing temperatures gripped much of the nation, and schools in at least 10 states were closed, as were roads and government offices.
Nowhere was it colder than in Bismarck, N.D., where wind chills hit a frighteningly frigid 52 below zero.
"The air freezes your nostrils, your eyes water and your chest burns from breathing," said Jane Tetrault, of Burke County in northwestern North Dakota. "And that's just going from the house to your vehicle."
While North Dakotans get plenty of practice with bundling up, folks in other parts of the country were still learning the basics.
With temperatures on the Texas-Mexico border expected to near freezing Thursday night, officials in Laredo issued an advisory telling residents to "dress warmly and stay dry."
"Adults and children should wear: a hat, a scarf or knit mask to cover face and mouth, mittens, water-resistant coat and shoes, and several layers of loose-fitting clothing," the city advised residents, who usually see near 70-degree weather in January.
Snow started falling at about 9 a.m. in the county where the Ohio crash occurred and caused several accidents throughout the day, said sheriff's dispatcher Vannessa Haley. The snow grew heavier at about 12:45 p.m., when dispatchers received reports of the accident, Haley said. The highway patrol said the crash is being investigated and would not say whether it was weather-related.
The bus was from the Creative Learning Workshop, which provides vocational services to adults with mental and developmental disabilities. The center is based in Warren, Ohio, and has locations across the state. Phone calls to the center's director were not immediately returned Thursday.
A dispatcher with the Harmony Township Fire Department, which responded to the crash scene first, said no one was available to comment because firefighters were meeting with a minister.
In North Dakota, troopers told travelers to carry at least half a tank of gas, warm clothes, boots, hats and blankets.
"If you are unconscious in a crash, whatever you had on at the time of the crash is what you'll be wearing while waiting for emergency workers," Lt. Jody Skogen said. "Waiting 20 minutes when it's 20 below - you're going to be suffering, dealing with frostbite issues and a lot of misery."
A few, however, welcomed the winter weather. In Iowa, where 10 inches of snow was expected on top of the more than 2 feet that has fallen since December, Gary McVicker said he caught a "little frost nip on the chin" while snowmobiling but was otherwise unscathed. He was pleased by the snow after several recent years of poor riding conditions.
"Oh heck, right now with the clothing we have, you can make it OK," said McVicker, president of the Iowa State Snowmobile Association.