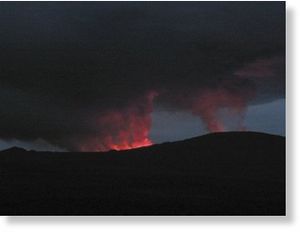 Kinshasa - A government official says a volcano has erupted in eastern Congo, sending lava toward a national park.
Feller Lutahichirwa said Saturday that the Nyamulagira volcano had erupted at dawn. While the area where the lava was headed is sparsely populated, wildlife officials say it is home to about 40 endangered chimpanzees.
Lutahichirwa says government observers are monitoring the situation with help from U.N. helicopters.
The director of Virunga National Park says the eruption is "of great concern" and that rangers have been deployed to monitor the lava flow.
Wildlife officials say fortunately no mountain gorillas are believed to live near the affected area. Virunga National Park is home to 200 of the world's 720 remaining mountain gorillas.