A hungry bear was shot dead by wildlife officials after getting its head stuck in a plastic jar and wandering into a busy town.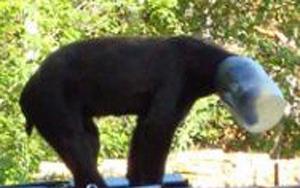 ©AP
A wild black bear whose head got stuck inside a 2-gallon clear plastic jug
The wild black bear is thought to have been foraging for food when its head became stuck inside a 2.5 gallon (9.5 litre) clear plastic jar that usually holds sweets or popcorn.
The two-year-old animal could breathe but could not eat or drink and was probably suffering from dehydration and hunger.
It was first spotted near the town of Lake George in Minnesota. Officials tried to tranquillise the bear but were unable to because it "stayed in forested areas".
However, six days later the bear wandered into Frazee town centre during a busy festival where wildlife officers decided they had to kill it.
"When it got into town, our main concern was public safety," said Rob Naplin, the Department of Natural Resources' area wildlife supervisor. "I'm sure there was high anxiety and frustration with its predicament. With all the people around... you're never sure what the outcome is going to be."